DNV has introduced a groundbreaking competence standard for remote control centre operators (RCCO). The standard - the first in the shipping industry - is supported by a new recommended practice that offers a certification scheme for RCCOs.
The competence standard and recommended practice provide a framework for training, assessing, and certifying personnel working in remote-control centres that support or manage operations at sea.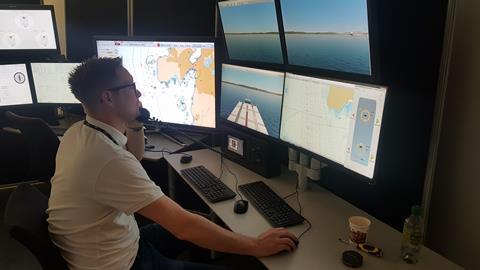 The new DNV competence standard for remote control centre operators (DNV-ST-0324) and the supporting recommended practice (DNV-RP-0323) clearly define the competence requirements for those monitoring, supporting and/or controlling ships. They were developed in collaboration with Kongsberg Maritime, Wilhelmsen, the University of South-Eastern Norway, and the Norwegian Maritime Authority.
The recommended practice, DNV-RP-0323, gives guidance to centres conducting examinations of RCCOs and issuing personnel certificates as a certification body. It also covers the competence building process for candidates before undertaking an RCCO examination, for example learning programmes and practice sessions in the centres themselves.
The DNV SeaSkill standard ST-0324 provides a foundation for the entire process. It lists the required competencies for the operation of autonomous or remotely controlled and/or supported ships. It also covers competency in man-machine interaction, communication with 3rd parties on behalf of a ship under remote control, and emergency handling and resource management within a remote control centre (RCC).