UK-based diesel engine specialist Finning reports that it has been selected as the sole service provider for the variety of engine makes and models that power the UK Border Force's fleet of patrol vessels.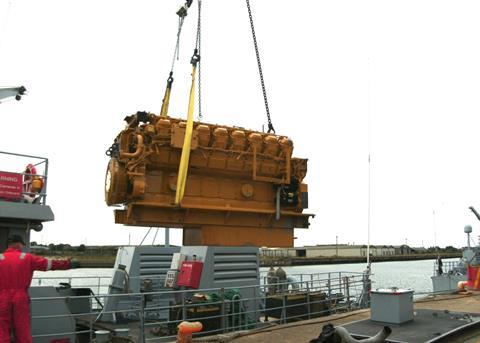 Finning was selected as the sole service provider by Babcock, which has a contract to provide through-life maintenance and support for the Border Force's fleet of five patrol cutters - Sentinel, Searcher, Seeker, Vigilant and Valiant. Under the contract, each ship will undergo a docking period every two years and annual life saving appliances (LSA) periods, taking one week, alongside.
Finning says that it was chosen by Babcock because it can provide round-the-clock support for a variety of engine types including Caterpillar, Perkins, Rolls Royce, Yanmar and Lombardini. In addition, Babcock has been able to outsource the management and supply of genuine spare parts to Finning, thus saving the time and effort of dealing with separate engine suppliers.
Alan Murray, subcontract manager at Babcock's marine and technology division said: "The cutter vessels operate 24 hours per day, 365 days per year, predominantly to detect prohibited and restricted goods, and prevent tax fraud. In the more remote and inaccessible areas of the UK, they may be the only law enforcement tools available. It's therefore imperative that any service work to the vessels is carried out within tight timescales, with a fast turnaround."
To ensure it could meet these requirements, Babcock assessed a number of engine service providers, using criteria such as call-to-fix times, emergency breakdown response, access to genuine spare parts and 24/7 availability.
Mr Murray added: "Our main priority was to select one supplier that had the expertise to service and maintain the number of different engine makes that power the vessels. We had previous experience of working with Finning to successfully support Caterpillar engines in other projects and were therefore confident in selecting the company as our single source supplier."
To date, Finning has carried out the complete overhaul of the engines onboard the HM Seeker, HM Searcher and HM Sentinel vessels – all of which were returned to full operation within the allocated timeframes.