A combination of German technology and Chinese construction has produced an innovative, versatile class of gas tanker, writes David Tinsley.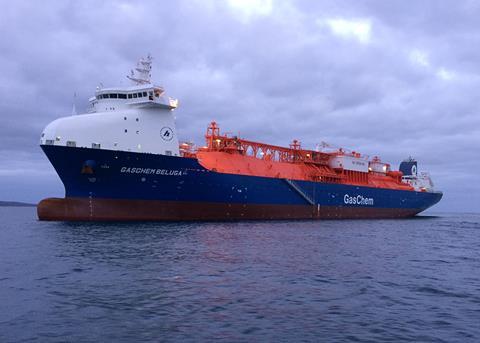 Phased into service this year to maintain a new transatlantic flow of US ethane exports, the liquefied ethylene gas (LEG) carriers GasChem Beluga and GasChem Orca rank among the world's most distinctive gas tankers, introducing and integrating developments in design and engineering.
Each ship embodies a recently developed tank containment system that enables a greater cargo volume to be accommodated within the given hull envelope, relative to conventional liquefied gas carriers, and is powered by two-stroke propulsion machinery that can be run on ethane as well as heavy fuel oil (HFO), distillate and natural gas. The bridge and accommodation structure is arranged forward, representing a departure from the norm in gas tanker layout, and the foreship form is characterised by what is known as a Svelte bow, for improved hydrodynamic and seakeeping performance.
The introduction of the two vessels on North Atlantic service also signals renewal and reinvigoration in one of the UK's remaining, traditional centres of heavy industry, Teesside, where a major investment by Saudi principals has put a petrochemical plant on a stronger competitive footing for the long-term.
The 36,000m3-capacity, semi-refrigerated LEG carriers were contracted from Sinopacific Offshore & Engineering (SOE) in China by the Norwegian-based shipping investment firm Ocean Yield, with construction assigned to Sinopacific subsidiary Yangzhou Dayang Shipbuilding. LEG tankers are generally considered the most sophisticated of all gas carriers, capable of transporting most liquefied petroleum gas cargoes, including ethylene at its atmospheric boiling point of minus 104degC. Liquefied ethane is transported at about minus 90degC.
Transatlantic trades
Ocean Yield has bareboat-chartered both vessels for 15 years to the Hartmann Group of Leer, Germany, which has sub-let the tonnage on 10-year timecharters to SABIC Petrochemicals, with additional five one-year options. The pair will be primarily employed carrying shipments of ethane from Houston, Texas, to the revamped olefin cracker at SABIC's complex on the River Tees, in north east England.
Extracted from natural gas, ethane serves predominantly as a petrochemical feedstock for the production of ethylene, used as a basic component in the manufacture of many chemicals and plastics, including plastic packaging.
The upgrade of SABIC's Olefins 6 plant on the Wilton site, allowing it to process ethane gas imported from the USA as an alternative raw material to liquid feedstock, has made it one of the most flexible and competitive crackers in Europe. The project is reckoned to be the largest single investment in the Teesside chemical industry for a generation, and has also entailed fabrication of what is claimed to be Europe's largest cryogenic ethane storage tank.
Offsetting declines in production from conventional gas reservoirs, the development of inland shale gas resources has led to major increases in US natural gas output, and the start of ethane exports. GasChem Beluga and GasChem Orca load from the Morgan's Point terminal near the mouth of the Houston Ship Channel.
The new breed of LEG carriers encapsulates the Eco Star 36K design, conceived by German engineers and naval architects. Three gas tankers of the type had originally been ordered by Ocean Yield from Sinopacific. As a consequence of SOE's filing for receivership in August last year, the Norwegian company agreed revisions to the construction programme with the shipbuilder and certain other contractual parties.
The order for the third vessel in the series, provisionally to have borne the name GasChem Narwhal, was cancelled in collaboration with Hartmann and SABIC, and the delivery date for the second ship, GasChem Orca, was postponed by several months to July 2017, and fulfilled on that basis. GasChem Beluga was handed over towards the end of 2016, and brought her first cargo to the Tees in January this year.
Trilobe tanks
The Eco Star 36K was developed under the leadership of Hartman Reederei in conjunction with compatriot technical consultancy HB Hunte Engineering and cryogenic specialists. Three stainless steel cargo tanks confer a total 36,101m3 of revenue-earning capacity in the GasChem Beluga, providing intake volumes of 11,474m3, 12,305m3 and 12,322m3, respectively, with two-grade segregation.
The unique Star-Trilobe cargo tank, the brainchild of Star-Gas Tank Design, combines three cylinders in a single unit, improving space utilisation as an alternative to traditional cylindrical and bi-lobe IMO Type C tanks. The containment system is said to facilitate an increase of approximately 30% in carrying capacity relative to a bi-lobe solution over the same ship length.
The gas plant and equipment were designed by another German firm, AC Inox of Alsdorf. The installation employs three cargo compressors and six 500m3 per hour deepwell cargo pumps.
By placing the superstructure at the bow and the main engine near the stern, weight distribution is enhanced, minimising the ballast water requirement. The adoption of a Svelte bow adds to overall hull hydrodynamic efficiency, enhancing seakeeping at a higher transit speed and reducing fuel consumption at the same time.
GasChem Beluga put down a new milestone in the evolution of fuel-flexible two-stroke propulsion machinery as the first recipient of the ethane-capable variant of MAN Diesel & Turbo's high-pressure gas-injected ME-GI engine. The seven cylinder, G50ME-C9.5-GIE multi-fuel propulsion engine gives the operator the option of using gas or traditional fuel, depending on relative fuel price and availability and cargo value, and considering existing and future emission control requirements. Although the intention is to maximise operation on ethane, the scope to use other gas types confers a particularly high degree of flexibility.
Ethane fuel is derived from cargo vaporisation, of 'boil-off', during the vessel's regular operation. Ethane displays a similar emissions profile to that of methane, containing negligible sulphur and delivering notable reductions in CO2 and NOx relative to HFO.
Flexible engine set-up
The ME-GIE engine has also been set up for possible use of methane fuel. It features the proprietary, recently-developed pump vaporizer unit (PVU), matching the requirements for the supply of high-pressure LNG to the engine. The PVU supersedes previous fuel gas supply systems and is attributed with comparatively low installation costs, smaller space needs and full pump redundancy.
The engine system provides for automatic switchover between fuels, and for hermetic sealing in the case of operation on gas in the event of a failure or error. The possibility to use different fuels in combination in different ratios makes for added safety and better ensures operational continuity.
The ME-GI engine platform on which the ME-GIE is differentiated from competing design series through its application of the Diesel cycle, rather than the Otto cycle, and associated use of high-pressure, as opposed to low-pressure, gas injection. Due to the Diesel combustion principle, one of the most important characteristics of the ME-GI type is claimed to be the negligible incidence of unburnt gas release, or fuel slip. The phenomenon of methane slip associated with natural gas fuel, whereby unburnt methane is released into the atmosphere, is a potentially serious contributor to greenhouse gas formation. Furthermore, formaldehyde emissions are obviated in the ME-GI by virtue of the Diesel cycle. ME-GI technology also dispenses with the need for 'knocking' prevention measures.
The propulsion package provided for each of the GasChem LEG carriers from MAN Diesel & Turbo's Frederikshavn division in northern Denmark included an AT3000 remote control system, controllable pitch propeller, type VBS 1350-ODS Mk5, and the powerful shaft generator with frequency converter sourced from Wartsila's SAM Electronics stable.
Each shipset of three auxiliaries comprises MAN 8L28/32H genset engines, manufactured under licence by CSSC Marine Power and rated at 1,680kW apiece. The electrical load while under way is served by the 2,500kW shaft generator. Enabling operation at variable speed between 80 and 100rpm, the controllable shaft generator system encapsulates a PWM (pulse width modulation) converter. According to Hartmann Rederi's technical superintendent Ionut Cornea, "It enables us to cool down our valuable cargo with the best efficiency and thus with the lowest costs we have ever experienced."
Rudder design
A contributor to design propulsion performance is the HB Hunte twist-flow rudder. Hull form evaluation and testing, including the rudder system, was carried out at HSVA's Hamburg facilities. Manoeuvrability is enhanced by a Norwegian-made, Rolls-Royce tunnel thruster delivering a 1,000kW rotational force in the bow.
The Hartmann Group has assumed full shipmanagement responsibility for both vessels, whereby Hartmann Gas Carriers conducts the technical and nautical operations and GasChem services manages the commercial side.
Enterprise Products Partners' Morgan's Point ethane export terminal on the Houston Ship Channel, where the ships load, said to be the largest of its kind worldwide, with an aggregate loading rate of approximately 10,000 barrels per hour of fully-refrigerated ethane. Supply is sourced from Enterprise's Mont Belvieu LNG fractionation and storage complex and transferred through a new, 18-mile pipeline.
Prior to the North Atlantic debut of GasChem Beluga, the 17,000m3-capacity ethylene carrier Clipper Hermes provided stop-gap capacity, initiating the traffic from Houston to SABIC's cracker on Teesside last November.
Diversified industrial producer SABIC is headquartered in Riyadh, Saudi Arabia, and manufactures chemicals, commodity and specialised plastics, fertilisers and metals in the Americas, Europe, the Middle East and Asia Pacific.
As to shipbuilding contractor Sinopacific, Marseilles-headquartered parent group Jaccar Holdings plans to dispose of shipbuilding assets, dry bulk shipping and various other assets, and focus on its offshore supply, gas shipping and fishing businesses.
PRINCIPAL PARTICULARS - GasChem Beluga and Orca
| | |
| --- | --- |
| Length overall | 188.28m |
| Length b.p. | 180.66m |
| Breadth, moulded | 29.02m |
| Depth, moulded | 17.51m |
| Draught, ethylene full cargo | 9.50m |
| Draught, LPG/ammonia full cargo | 10.00m |
| Cargo capacity, 100% volume | 36,101m3 |
| Cargo capacity, 98% volume | 35,379m3 |
| Cargo segregations | 2 |
| Deadweight, maximum | 25,288t |
| Gross tonnage | 28,580t |
| Main engine, nominal MCR | 12,040kW |
| Shaft generator | 1 x 2,500kW |
| Auxiliaries | 3 x 1,680kW |
| Bow thruster | 1 x 1,000kW |
| Service speed | 16kts |
| Class | DNV GL |
| Class notations | +100A5, liquefied gas carrier Type-2G, BWM (D2), ERS, IW, NAV, MC, AUT, CM-PS, EP-D, GF, Inert R1 |
| Flag | Liberia |