Schottel says that it will be launching its latest generation of Navigator integrated propulsion unit.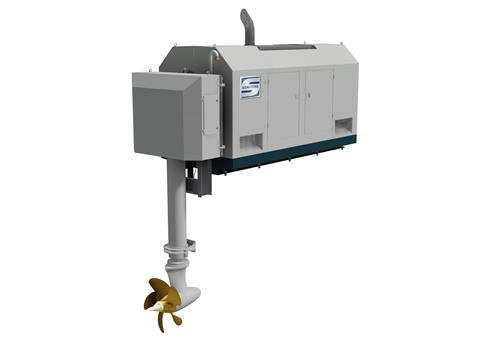 The NAV 200 will be exhibited at Europort in Rotterdam in November. The Schottel Navigator, which the company describes as an adaptation of the Schottel Rudderpropeller principle, has been around for about 60 years. The Navigator comprises the propulsion unit, diesel engine and related equipment including fuel tank and electronic monitoring system. It is a self-contained unit that can be bolted to a vessel by the shipyard, and detached complete for maintenance or repair. It is designed primarily for barges, floating cranes, ferries and work vessels, but can be used to propel any floating object.
A diesel engine from MAN or Caterpillar is used as the prime mover, with a clutch between the engine and Rudderpropeller to transmit the power via a flexible coupling and a universal shaft. The propeller can be raised and lowered vertically direction and pivoted to the rear.
There will be three basic variants to the new range, known as NAV Basic, NAV Offshore and NAV soundproof. All feature a galvanised enclosure, with forced ventilation for Offshore and Soundproof versions. Low emission engines are employed, ranging in power from the 190kW NAV0320 to the 746kW NAV550.