Benefit from excellent opportunities for knowledge sharing and networking with Ship Owner Executives at the 2023 Propulsion & Future Fuels conference.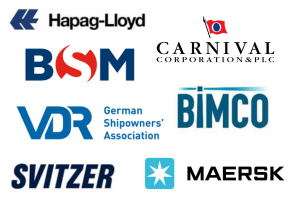 Maersk's Senior Project Manager, Christian Loth, will be delivering a presentation on 'The World's First Green Methanol Container Vessel' outlining plans for Maersk's future fleet of container vessels sailing on Green Methanol including lessons learnt throughout the projects.
On Thursday 14th September 2023, Maersk held a naming ceremony for the world's first methanol-enabled container vessel which now carries the name "Laura Maersk".
Maersk has an ambitious 2040 target of net zero greenhouse gas emissions and aims to transport a minimum of 25% of Ocean cargo using green fuels by 2030. Maersk has 24 additional methanol vessels on order for delivery between 2024 and 2027 and a policy to only order new, owned vessels that come with a green fuel option.
Hapag-Lloyd AG's Regulatory Affairs Director, Wolfram Guntermann will be discussing the Cost of Decarbonisation & Who is going to Pay keynote panel; with the Director of Green Fuels, Captain Michael Behmerburg, joining the LNG Beyond Transition panel to discuss the New Generation of LNG fueled container vessels.
Hapag-Lloyd has a container capacity of 2.9 million TEU – including one of the largest and most modern fleets of reefer containers. A total of 119 liner services worldwide ensure fast and reliable connections between more than 600 ports on all the continents.
Carnival Corporation & PLC's SVP Maritime Affairs, Tom Strang, also joins the LNG panel to discuss what has been improved and what will come next.
This year's conference attendees include ship owner executives both as speakers and delegates, plus Ship Owner Associations from the following companies:
Hapag-Lloyd AG
Carnival Corporation & PLC
Maersk
Svitzer A/S
Bernhard Schulte Shipmanagement GmbH & Co. KG
BIMCO
VDR, German Shipowners Association
Learn more about the topics covered at the 2023 Propulsion and Future Fuels Conference READ FINAL PROGRAMME HERE
Alternatively, call our team on +44 1329 825335 or email conferences@propulsionconference.com