Steering towards the IMO's 2050 net zero target, we explore whether carbon capture is a maritime contender.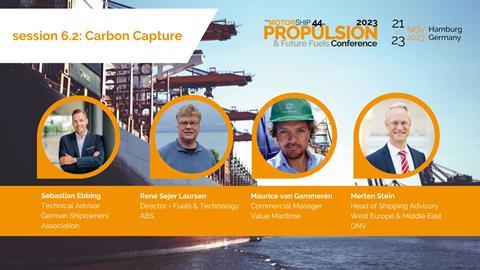 Moderated by Sebastian Ebbing, Technical Advisor, VDR, German Shipowners' Association, who will also be talking about Regulatory Issues. This session's presenters include:
René Sejer Laursen, Director, Fuels & Technology, ABS
Will Pre-Combustion Carbon Capture Systems Applied to LNG Carriers and Containerships be an Option to Reduce CO2 emissions?
During 2022 Rotoboost achieved an AIP for their pre-combustion carbon capture technology at ABS. It has been found that Rotoboost's solution is one of the most promising technical solutions capable of reducing carbon by nearly 100%, also reducing the carbon footprint of the ship to the agreed upon level. Wärtsilä has a program for development of hydrogen fueled engines, that can operate on hydrogen as well as a blend of hydrogen and methane. Implementation and integration of those two systems into a ships design will be discussed in details.
Maurice van Gammeren, Commercial Manager, Value Maritime
The Transition to Carbon Capture and Future Fuels – Before, during and after
Discover carbon capture in action as we delve into the process of installing such systems onboard ships as well as the most effective ways to store carbon onboard and the benefits involved.
Merten Stein, Head of Shipping Advisory West Europe, DNV
Onboard Carbon Capture – Practical Solution or Fantasy?
Onboard Carbon Capture systems enter the market – but can they play a credible role in solving Maritime's CO2 challenge?
Once each presenter has delivered their presentation, there will be a 30-minute Q&A where delegates can pose their questions and comments.
With two weeks to go join industry heavy weights on the opportunity to learn and network at Propulsion and Future Fuels.
To join this hot topic discussion, register your space now.
Book online or alternatively, call our team on +44 1329 825335 or email conferences@propulsionconference.com