Annika Kroon, Head of Unit D1 Maritime, Transports & Logistics, European Commission has confirmed her participation in the high level panel discussion addressing the cost of decarbonisation & who is going to pay.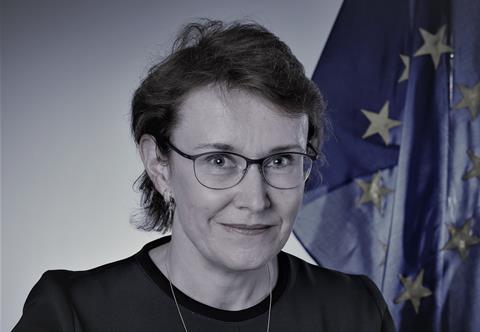 Unit D1 under Annika's management brokered the FuelEU Maritime agreement in March this year for the energy transition and decarbonisation of Maritime Transport.
Annika is an economist with Master's degrees in Cybernetics in Economy and International Finance, having devoted the last 13 years to transport policy.
In her earlier assignments in the European Commission, she was involved in setting up the impact assessment framework for new policies. Before joining the European Commission in 2008, she has worked as a financial and business analyst in banking and telecommunication sectors in Estonia.
The opening morning keynote session will boast high calibre panellists including:
Annika Kroon, Head of Unit D1 Maritime, Transports & Logistics, European Commission
Simon Bennett, Deputy Secretary General, International Chamber of Shipping
Martin Kröger, CEO, VDR (German Shipowners' Association)
Markus Münz, Managing Director, VDMA Large Engines
Wolfram Guntermann, Director Regulatory Affairs, Hapag-Lloyd AG
They will be addressing The Cost of Decarbonisation and who is going to pay including carbon levy funding, funding for investment, national incentives, funding for new technology, hypothecation, and The Fuel EU Maritime agreement.
The European Council and European Parliament, in March 2023, agreed The Fuel EU Maritime initiative; a provisional political agreement to decarbonise the maritime sector. As part of the Fit for 55 package, the agreement ensures fuel suppliers, ships and operators will have a level playing field ensuring they have sufficient time to adapt to the new conditions in order to deliver climate targets.
The main objective of this initiative is to reduce greenhouse gas emissions and increase the demand and use of renewable low carbon fuels to meet the EU's climate targets for 2030 and 2050.
Learn more about the European Commission's plans and pose your questions to Annika at this year's Propulsion and Future Fuels event, taking place from 21-23 November 2023 at the Empire Riverside Hotel in Hamburg.
Book your place today and save 20% on the delegate rate – simply enter the code PFFEARLYPREM when booking your premium delegate place for the 3-day event.
Alternatively, call our team on +44 1329 825335 or email conferences@propulsionconference.com