On the first day of the conference, we discuss the Safety Challenges for New Technology.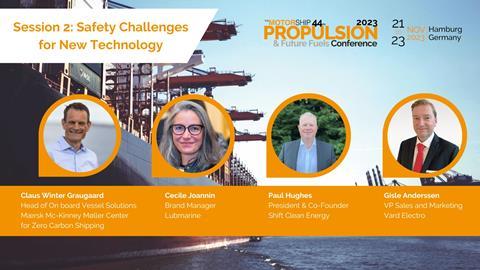 Moderated by Lars Robert Pedersen, Deputy Secretary General, BIMCO this session discusses safety challenges for new technology. Lars Robert is joined by:
Claus Winter Graugaard, Head of Onboard Vessel Solutions, Mærsk Mc-Kinney Møller Center
Enabling sustainable scalable fuel pathways – with a focus on Ammonia for Zero Carbon Shipping
Ammonia introduces new risks mainly due to its toxic properties. The MMMCZCS are working thoroughly with their partners and industry stakeholders to establish intelligence, strong risk management principles, safeguards, human factors, emissions, bunking standards, guidelines, and develop novel ship design solutions. Claus will be sharing the latest work on the qualification of the ammonia fuel pathway.
Cecile Joannin, Brand Manager, Lubmarine
Global Lubmarine approach to support decarbonisation and the challenges to overcome
From developing new lubrication management strategies to help solve key challenges around reduced CO2 emissions, Lubmarine is developing an increasing array of digital tools that not only aims at supporting engine monitoring and maintenance but at providing data on Lubricant related Carbon Footprint.
Paul Hughes, President and Co-Founder, Shift Clean Energy
New Technology & Safety
Using a pay-as-you-go subscription model for electrification, swappable batteries create a viable solution for maritime decarbonization. With a commercial subscription model, customers pay for energy used per trip, eliminating typical barriers of electrification such as capex, charging infrastructure, and battery maintenance.
Gisle Anderssen, VP Sales and Marketing, Vard Electro
Exploring the integration challenges in the maritime
Integrating power systems with alternative fuels to achieve optimal energy efficiencyfor sustainable operations.
To pose your questions and join the conversation, book your delegate place today.
Book online or alternatively, call our team on +44 1329 825335 or email conferences@propulsionconference.com