During the conference technical visit, you can expect to be aboard Prag or Dresden the Damen Fire-Fighting Vessels 3508 delivered to Flotte Hamburg, a subsidiary of the Hamburg Port Authority (HPA).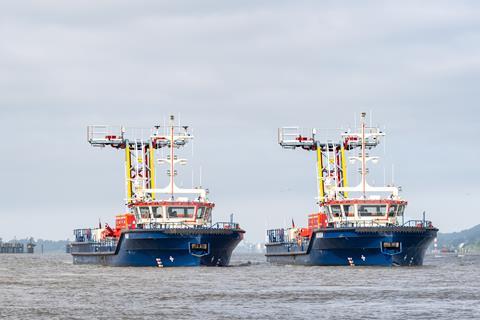 The hybrid service ships, with 315 kWh of battery capacity, are capable of working for extended periods, operating under electrical power. One vessel, Prag, will be operated by Hamburg's fire service, while the other, Dresden, will support the Port Authority, the fire service and other third parties.
Built to a Robert Allan design, the 35.5m-long vessels have a maximum speed of 12 knots and are equipped to fight fires in the port area and within the city itself. They can also undertake other services, including water supply, rescue and recovery, technical assistance, and environmental protection.
Book your premium delegate place now and benefit from a technical visit aboard the Damen Fire-Fighting Vessels 3508; there is a very limited number of spaces, so if you are interested, please let our sales team know soon.
Delegates will meet organisers at Le Méridien Hamburg reception at 09:20 before walking over to Flotte Hamburg, then returning to Le Méridien Hamburg at around 12:30.
Benefit from the following networking and learning opportunities by booking your premium place:
· Conference attendance with lunch and refreshments on both days.
· Full documentation in printed and electronic format.
· Place at the drinks reception (22nd November 2022).
· Place at the Conference Dinner (22nd November 2022).
· Place at Technical Visit (24th November 2022).
Book online today or contact the team at +44 1329 825335. You can also email conferences@propulsionconference.com