Six leading marine insurers have launched a new initiative to provide transparency on carbon emissions and support the shipping industry's green transition.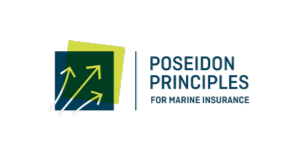 The Poseidon Principles for Marine Insurance are a way to assess and communicate how marine insurers' underwriting portfolios align with efforts to reduce the impact of climate change, reportedly the first time an industry has established a sector-specific methodology.
"As risk managers, insurers and investors, the insurance industry has a key role in supporting the transition to a net-zero economy," said Patrizia Kern, marine head at Swiss Re Corporate Solutions and chair of the drafting committee for the Poseidon Principles for Marine Insurance.
"The disclosure framework provided by the Poseidon Principles will enable us to credibly report our progress towards net-zero insurance using granular marine data. As signatories of the Net-Zero Insurance Alliance (NZIA), we at Swiss Re encourage everyone in the marine industry to align with net-zero 2050 targets," she added.
Signatories to the principles will commit to assessing and disclosing the climate alignment of their hull and machinery portfolios, benchmarking them against two paths – one linked to a 50% reduction of annual CO2 emissions by 2050 compared to 2008 and one linked to a 100% reduction of emissions by 2050.
A third path will be introduced to align the full decarbonisation aim with zero-lifecycle greenhouse gas emissions, and to support a zero-emissions future for shipping.
Founding signatories comprise Swiss Re, Gard, Hellenic Hull Management, SCOR, Victor International and Norwegian Hull Club.