Joining us at this year's PFF conference are: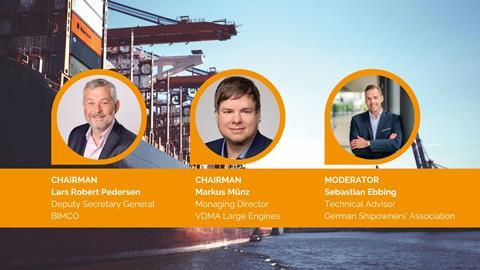 Lars Robert Pedersen, Deputy Secretary General, BIMCO
Deputy Secretary General Lars Robert Pedersen has been resident chairman of the conference for 10 years. He is responsible for BIMCO's technical and operational activities involving all technical and nautical issues within the area of marine, environment, ship safety and maritime security.
Lars Robert is furthermore responsible BIMCO's activity related to regulatory developments relevant to shipping at international, regional and national levels.
In the past decade, he has served on IMO expert groups on market-based measures and on the steering group for the IMO 2020 fuel oil availability study.
He joined BIMCO in early 2010 after a long career at A.P. Moller-Maersk (APMM). For more than 25 years he was involved in regulatory affairs at IMO level, technical management of the Maersk fleet of container ships and prior to that as a seagoing engineer officer. Lars Robert holds an unlimited Chief Engineers license.
Markus Münz, Managing Director, VDMA Large Engines
Dr. Markus Münz has studied Mechanical and Process engineering at TU Darmstadt in Germany. He holds a Master of Science and a Bachelor of Science in Mechanical and Process Engineering, a Bachelor of Science in Applied Mechanics, as well as a Ph.D. in Mechanical Engineering.
He started his professional career at Isuzu Motors Germany where he particularly looked at engine application, drivability, problem solving and alternative fuels. In July 2022, he joined VDMA as a project manager engines and systems with special emphasis on Power-to-X. Additionally, he is Managing Director of VDMA Large Engines – CIMAC Germany.
Sebastian Ebbing, Technical Advisor, VDR (German Shipowners' Association)
As Technical Advisor at German Shipowners' Association, Sebastian Ebbing provides profound technical expertise to the ongoing regulatory developments on EU and IMO-Level. With his background in nautical science, marine engineering and international maritime management he is dedicated on regulatory climate-protection affairs, the maritime energy transition incl. the development of alternative climate-neutral fuel strategies, digitalization and innovation projects in shipping.
Sebastian Ebbing´s technical expertise is accompanied by experience in fleet performance management within a globally operating shipping company. The German Shipowners' Association (VDR) is a leading professional association within the German business community. It was founded in 1907 by the regional shipowners' associations in order to enable them to have common and uniform representation of their interests. Today, the VDR represents the German maritime shipping segment not only in Berlin and Bonn, but also in Brussels, London, Geneva and at global level.
View the full programme here which includes topical sessions with over 40 speakers and panellists, and secure your place today.
Alternatively, call our team on +44 1329 825335 or email conferences@propulsionconference.com
Learn about new exciting collaborations, book your delegate place today.
For more information on Propulsion & Future Fuels, contact the team on +44 1329 825335 or email conferences@propulsionconference.com