The Motorship Awards takes place a this year's Propulsion and Future Fuels Conference.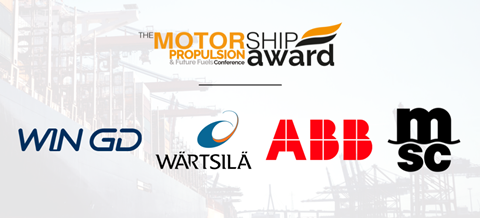 Designed to honour innovative low emissions vessel partnerships, acknowledging the importance of collaboration in solving industry-wide challenges, we are pleased to announce the 4 finalist projects:
WinGD
Variable Compression Ratio (VCR) solution for X-DF engines
Marcel Ott, General Manager, Application Engineering, WinGD
Wartsila
Ultra low emission gas engine technology
Diego Delneri, General Manager, Systems & product performance
ABB
Technical aspects of ABB Dynafin™ propulsion concept
Janne Pohjalainen, Global Product Line Manager, Marine Propulsion, ABB Marine & Ports
MSC Shipmanagement/Wärtsilä
Fit4Power
Franklin Stephen Karkada, Director Fleet Performance, MSC Shipmanagement
Stam Achillas, Head of Business Development & Sales, 2-Stroke Decarbonisation Solutions, Wartsila
The Motorship Awards presentations will be delivered on the first day of the conference, and delegates will be given the opportunity to vote for their winner.
The winner will be announced by the Motorship Editor Nick Edstrom at the conference dinner in Hamburger Elbspeicher.
Learn about new exciting collaborations, book your delegate place today.
For more information on Propulsion & Future Fuels, contact the team on +44 1329 825335 or email conferences@propulsionconference.com