The Motorship's Propulsion & Future Fuels conference dinner took place at The Gröninger Privatbrauerei, Hamburg.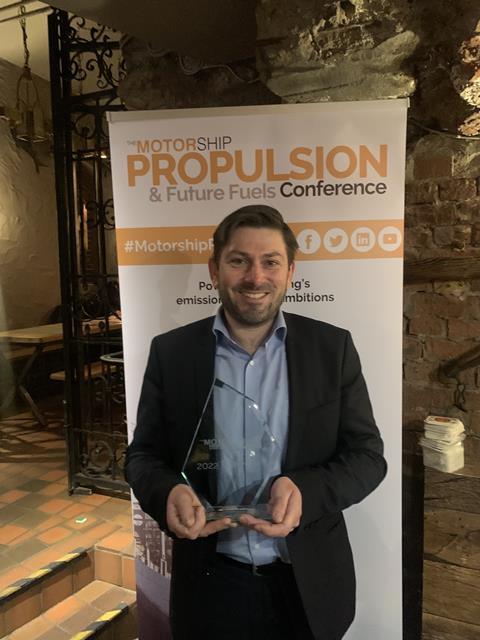 After the drinks reception, sponsored by WinGD, delegates attended the conference dinner, which provided an opportunity to make new connections and continue the discussions from the packed agenda in a relaxed setting. The key discussions over dinner were based on Electrification and Digitalisation. If you couldn't attend the conference this year and want to know why delegates were so keen continue their discussions outside the conference room, you can download the conference proceedings next week, which will include recordings of the speaker presentations, a copy of the presentations, and the conference handbook.
There was also excitement to find out the winner of the Motorship Award. The award nominations were chosen by The Editor of The Motorship, Nick Edström, however it was the delegates at the conference, who voted their winner by individual voting after the conference.
This year the nominated projects were:
With Orca; Norwegian zero-emission bulk carrier project
The Aurora Class - the future of deep sea shipping
Solutions for Groundbreaking Carbon-Transport-and-Storage Project
Wärtsilä Two-Stroke Future Fuels Conversion platform
NYK Line newbuilds set for net zero with WinGD system integration
Nick Edström, hosted the short award ceremony before the conference dinner. With a very strong line up of speakers and presentations the votes were very close, however with 37% of the votes, the winner of The Motorship Award 2022 is Lloyd's Register, with the project - With Orca; Norwegian zero-emission bulk carrier project, on behalf of Egil Ulvan Rederi, The Norwegian Ship Design Company, Heidelberg Materials and Felleskjøpet.
View Lloyd's Register's full presentation as part of the conference downloads, available next week, to see why they are the winners of the Motorship Award this year.
We hope you are able to join us at next year's event taking place from 21-23 November 2023, in Hamburg, with a networking conference dinner on 21st November 2023.
Photos of the conference will be available next week, and you can see live coverage of the event on twitter @Motorship.