The 'Solutions for 2030' is the opening session for this year's Propulsion and Future Fuels Conference.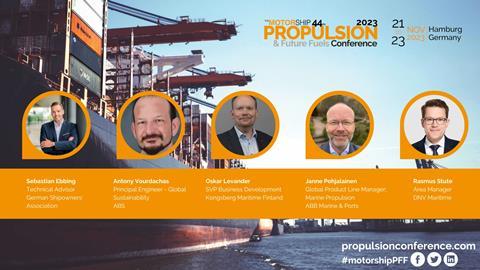 With the 2030 mid-term reduction goals agreed and the 2050 emissions deadline looming, what better time discuss 2030 solutions?
Moderated by Sebastian Ebbing, Technical Advisor, German Shipowners' Association, this session will investigate solutions to the IMOs commitment to cut carbon emissions from commercial shipping by 50% by the 2050 deadline.
This session will explore the shipowner's major adaptation challenges, technologies to reduce energy demand and improve the efficiency of cargo vessels, and propulsion systems – evaluating how the maritime industry will respond to the decarbonisation challenge.
Addressing this topic are:
Antony Vourdachas, Principal Engineer, Global Sustainability, ABS
Oskar Levander, VP Strategy & Business Development, I&E, Kongsberg Maritime
Janne Pohjalainen, Global Product Line Manager, ABB Dynafin™, ABB Marine & Ports
Rasmus Stute - Area Manager, DNV Maritime
View the conference programme here.
Do you want to know more about reducing your emissions? Join in the discussion with this year's speakers and book your place for Propulsion & Future Fuels online at www.propulsionconference.com, call the Events team on +44 1329 825335 or email conferences@propulsionconference.com.