Yanmar has developed and tested a new maritime fuel cell technology, aiming to commercialise a 300kW system for use on ships in 2023.
The technology is the result of a number of Japanese government-funded projects researching the safety and deployment of hydrogen as a suitable marine fuel, culminating in the building of a test boat in 2019 using components from a Toyota MIRAI fuel cell vehicle.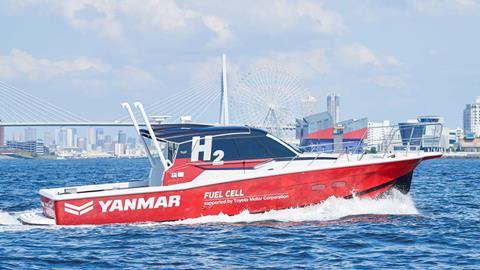 Hydrogen's abundancy and emissions-free operation give it enormous potential as an alternative fuel as the world seeks to combat climate change. "We believe hydrogen fuel cell systems will be one of the best decarbonisation solutions for the realisation of a sustainable society," said Takehiro Maruyama of the New Power Source Group at Yanmar's R&D Centre.
Traditionally Yanmar's business has been in internal combustion engines but the company is seeking to transform itself into a powertrain solution supplier than does not only depend on engines. "The electrification of the powertrain is an important part of a carbon neutral society," said Takehiro Maruyama.
Why hydrogen?
Current electric vehicles mainly use lithium-ion batteries but these perform poorly where large continuous outputs are required over long periods, such as on a ship. "Hydrogen has the advantage of a much larger energy density and a significantly shorter refuelling time," continued Takehiro Maruyama. "Furthermore, there is almost no noise, vibration or smell of exhaust gas," he added.
Overcoming such questions as 'what happens if the fuel cell is immersed in seawater?' and 'what happens if the ship is rocking and tilting?', Yanmar successfully developed an electric powertrain fuelled by hydrogen together with associated batteries, motor and power management software.
The resulting boat, created with support from partners Toyota Motor Corporation, Iwatani Corporation, Toyota Tshusho Corporation and Kimura to name a few, began its first demonstration tests in March 2021.
Yanmar now plans to commercialise a 300kW maritime hydrogen fuel cell system in 2023 with deployment at Osaka-Kansai Expo and carbon neutral ports in 2025.