In the first ever application of a biocide-free, self-polishing antifouling to a cruise vessel, Nippon Paint Marine has successfully applied its new Aquaterras hull coating to an AIDA Cruises' vessel.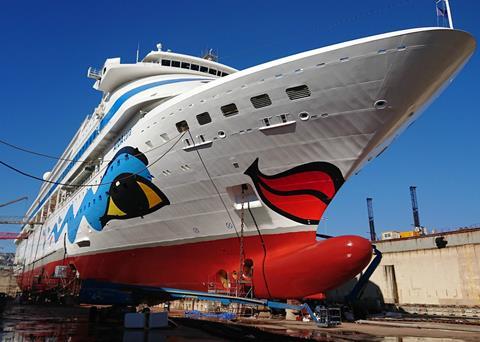 AIDA Cruises' decision to use the coating for its 38,531 tonne AIDAcara follows the success of test patches on a number of Carnival Corporation cruiseships.
"This application is the result of a long-standing project with Nippon Paint Marine to find an environmentally-sustainable way of reducing ships' energy consumption," said Jukka Ignatius, superintendent, innovation & energy management at Carnival Maritime, which is responsible for the technical and nautical operation of AIDA ships.
Aquaterras is an SPC antifouling material that is based on a mix of hydrophilic and hydrophobic components. It contains no heavy biocidal pigments, active ingredients nor silicone and is proven to reduce ship's drag by up to 10%.
The coating can be applied using standard equipment and without complicated masking. It can be applied to ships directly over approved biocidal SPC antifouling paints and can even be overcoated by other SPC antifouling paints without needing to be removed.
John Drew, director of Nippon Paint Marine, said, "After application, surface roughness measurements were as low as 40µm and averaged 63µm, but since Aquaterras is self-polishing the overall hull roughness should become even lower as the vessel continues on its regular operations."