Propulsion & Future Fuels 2018 kicked off with an opening session centred around the emissions outlook for the commercial shipping industry and featured keynote addresses from the IMO, MAN Energy Solutions and Wartsila.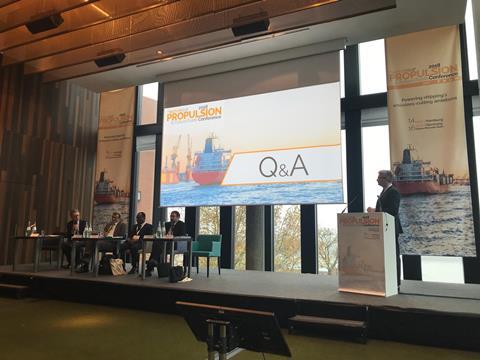 The Harry Conway, Vice Chairman, MEPC (Marine Environmental Protection Council), IMO started by discussing the real and urgent threat of global warming that needs to be addressed, but reinforced that for this to happen the industry would first need to achieve a general consensus on the issue.
Conway looked to the audience to ask if the future looked promising and responded saying that their presence at this conference "was a testament to the fact we are all interested in finding a solution to the problems the earth faces".
Thomas Knudsen, Senior Vice President – Head of Two-Stroke Business at MAN Energy Solutions was optimistic that IMO targets could be met, explaining that he was positive that it was possible but would require an "all hands on deck attitude".
Following this session, the shipowner panel discussing 'Investing in the future fleet' provided the audience with a frank and honest discussion on where they see the future of commercial shipping heading.
John Bradshaw from the International Chamber of shipping reaffirmed the popular opinion that scrubbers do have a place in the future mix, but that a "holistic, joined-up approach" with regard to future fuel and propulsion choices was necessary. Finishing on a high Bradshaw commented that despite the challenges facing them, the 2050 target is achievable and that as an industry "commercial shipping has a good history of doing what it is told to do".
Day two kicks off on 15 November at 08:35 with the third and fourth instalments of The Motorship Award as well as a further four parallel streams, case study based presentations and panel discussions. View the programme here.
Follow the event live @TheMotorship and take a look at the website for more information and updates about next year's edition of Propulsion & Future Fuels.