Huisman has been awarded a contract to design and construct the leg encircling cranes (LEC) for two wind turbine installation vessels (WTIV) by COSCO Shipping (Qidong) Offshore Co., Ltd.
The scope of work for Huisman consists of the design, engineering and construction of the two LECs at its production facility in Zhangzhou, China. The cranes will be commissioned at COSCO's shipyard in Qidong, China, where the X-class vessels will be built.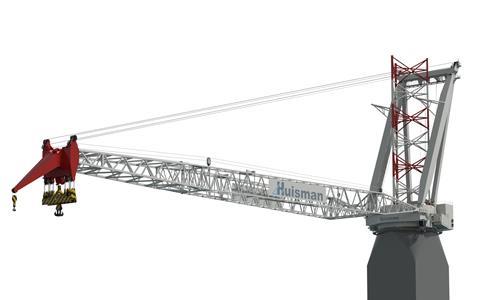 The LECs, which will have a lifting capacity of 2,000 tonnes or more, will be mounted on two X-Class offshore installation vessel ordered by Cadeler. The wind turbine installation vessels will have a deck capacity of 5,600m2, and a payload of over 17,600 tons. The vessels are slated for delivery in Q3 2024 and Q1 2025.
Huisman's LECs will have a 155-metre long boom, capable of reaching 180.5m above deck. The boom will be capable of being upgraded to 175m in order to increase the lifting height to 200.5m. The X-Class vessels will be capable of installing offshore foundations and next generation wind turbines of up to 20MW, with a capacity to carry components for seven complete 15MW turbines on board. The vessels were designed in close cooperation with GustoMSC.
Huisman's LEC cranes feature a lightweight but robust design, along with reliability and a short tail swing. The LEC selected also features a fully electrically driven system, resulting in high positioning accuracy, reduced maintenance and high reliability.
Cadeler confirmed that COSCO Shipping Heavy Industry had been awarded the US$651 million order for two new build X-class vessels at the end of June. In a measure of the demand for WTIVs capable of handling larger capacity wind turbines, Cadeler announced that the first of the pair had been booked by Siemens Gamesa to help with the installation of 100 14MW wind turbines on RWE's wind farm on Dogger Bank in the North Sea before the keel was laid.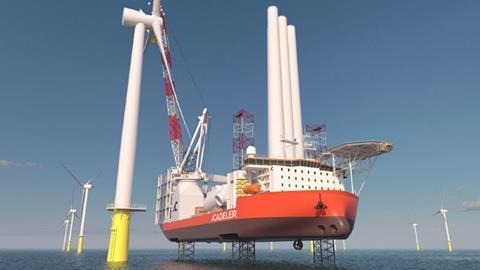 The confirmation of the order follows a few weeks after Huisman announced an order for an even larger 3,000 tonnes or more capacity LEC in connection with Van Oord's WTIV newbuilding, Boreas.