The Motorship Magazine will host a blog from the 2017 Propulsion and Emissions conference venue in Hamburg, Germany. Reporting the highlights for our global web audience the blog will offer an insight into the speakers and presentations at this year's highly anticipated conference.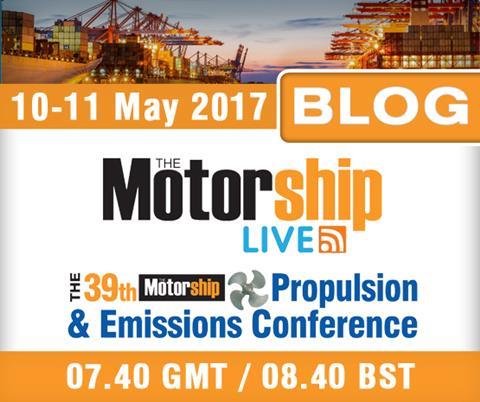 The blog will feature prominently on the conference and The Motorship websites for the duration of the event and will include soundbites, photos and video as well as social media response to the presentations.

The event will include presentations from the world's foremost experts in the global shipping industry with, Lars Robert Pedersen, deputy secretary general, BIMCO and Martin Kroeger, managing director, VDR co-chairing the conference, providing detailed insight into the industry's latest developments from experts who represent a large percentage of the world's leading operators.
The Welcome Reception, hosted by Blohm & Voss on 9 May 2017 is a key networking opportunity, followed by the conference dinner on the 10th May, hosted by GE Marine.
Entitled 'Future proofing your fleet', the programme will bring together owners/operators, equipment manufacturers and other stakeholders, to discuss technical advances and in-the-field experiences with the aim of equipping delegates with the knowledge to 'future-proof' the global merchant fleet.
View the full programme for more details. Anyone wishing to join the conversation, including asking questions to speakers or responding to their comments, can contact us on Twitter at @PropulsionConf or @Motorship.

The blog will go live from 07:40 BST/ 8:40 CEST on the 10th May.
View the 2017 Propulsion and Emissions Conference Programme here