Alfa Laval's Automatic Fuel Efficiency Module (AFEM) has a new modification for reducing the fuel consumption of Alfa Laval Smit Combustion inert gas systems.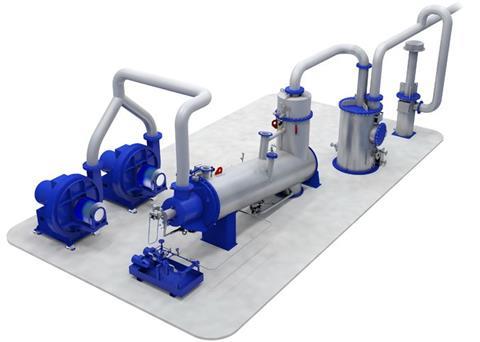 Fuel consumption is reduced by ensuring the inert gas that keeps cargo safe during offloading is only generated in the exact amounts required.
In a two-year pilot project, the AFEM allowed Italian shipping company Navigazione Montanari S.p.A. to achieve an average fuel savings of 30%.
Mart Blankert, manager customer support, Inert Gas Systems at Alfa Laval, said: "A failed module could prevent cargo from being discharged, meaning expensive delays in port. Working with potentially volatile cargo, we took our time with the pilot to ensure that everything functioned as intended."
"The AFEM was designed with capabilities for full override in case of any such problems," added Alessandro Federico, technical director at Navigazione Montanari S.p.A. "And although you expect some issues with any pilot project, we're glad to say that we never lost a minute of commercial operation with the AFEM."
For Navigazione Montanari, which has been focused on improving environmental standards, especially with regard to minimising CO2 production and fuel waste, taking part in a pilot project to evaluate the AFEM seemed like a natural fit.
Valle di Navarra, a 40,000 DWT product carrier built in 2002, was selected as the test vessel for the project. Compared to similar vessels with Smit Combustion systems, the Valle di Navarra discharges frequently – up to three times per week – which provided Alfa Laval with ample statistical information on the AFEM's performance and reliability.
This made it possible to greatly reduce the operational expenses related to inert gas production aboard the Valle di Navarra.
"With the AFEM installed, the inert gas generator capacity is constantly adjusted," explained Mr Federico. "Purging can never be fully eliminated or avoided in practice, but an optimum setting is maintained. We can see most of the fuel savings at lower discharge rates, where they can be up to 30%."
For vessels with Smit Combustion systems already installed, the AFEM will soon be available as a retrofit installed and commissioned by a trained Alfa Laval service engineer. For new inert gas systems, the AFEM will be available as an added option at the time of the original installation.
Book your place at the 2017 Propulsion & Emissions Conference to find out more about fuel efficiency measures and cost saving condition monitoring initiatives.
Join ship owners, operators, ship designers, engine manufacturers and suppliers and classification societies to network, discuss, debate and share information on the pertinent issues facing these key stakeholders at this crucial time for the shipping sector.
Ship operator members of BIMCO and VDR will receive a 50% discount.
Contact the events team for details of special rates available for ship owners, operators and managers by email at conferences@propulsionconference.com or call +44 1329 825335.
Follow the event on Twitter: @PropulsionConf