More than 40 papers and presentations from this year's highly successful Propulsion & Emissions Conference are now available to download from the Conference website. If you were unable to attend, access to these papers will give you the information on the latest cost saving and emission reducing technologies.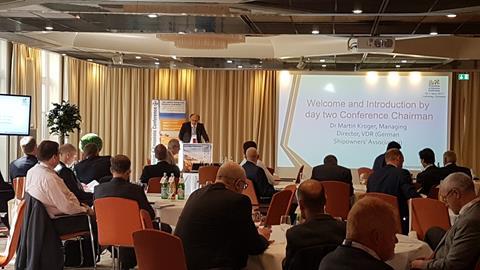 More than 120 participants from 21 countries, from ship owners and operators, industry organisations, classification societies and industry suppliers gathered in Hamburg earlier this month for the 39th Propulsion & Emissions Conference.
Presentations available to download include:
Keynote addresses – Future proofing your fleet to comply with forthcoming regulations:
Stefan Micallef, Director, Marine Environment Division, International Maritime Organisation (IMO)
Ole Graa Jakobsen, Vice President, Head of Fleet Technology, Fleet Management & Technology, Maersk Line
All papers can be purchased as pdfs for the price of €365 / £330 by visiting our Conference Papers page - purchase these online now. The pdfs are available free of charge to delegates.
For further information about downloading the conference papers, or about the 39th Propulsion & Emissions Conference, contact the Events team on +44 1329 825335 or email conferences@propulsionconference.com.
Follow the event on Twitter @PropulsionConf.