During a recent presentation at its Ålesund research centre, Rune Garen, director of research and testing, propulsion at Rolls-Royce shared some of the future propulsion concepts the company is investigating.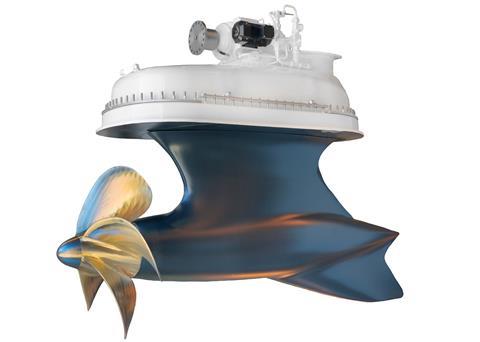 Garen advocates a system-wide approach to improving propulsion efficiency, noting that while potential gains in propeller efficiency alone are diminuishing – in part due to the already advanced nature of propeller design – the industry is only beginning to fully appreciate the potential of optimising the entire propulsion system, comprising propeller, rudder and hull. These efficiency gains are being unlocked by advances in analytic power (such as advanced computational fluid dynamics) and modern research methodologies (including rapid prototyping and hybrid real-simulated testing) as well as progress in material sciences and production techniques.
Garen notes four areas in which any company needs to excel to develop and commercialise successful propulsion concepts. Transport performance, indicated ultimately by fuel consumption, is clearly a priority. Concept configuration, hull design and propulsor choices all play into this area.
While comfort traditionally involves a pay-off with efficiency, it is increasingly demanded by ship owners in several segments and designers need to take into account pressure pulses, noise and vibration and cavitation effects when developing propulsion systems.
Safety and reliability remain critical factors for ship owners, Garen notes. Important elements for propulsion design in this area include a focus on off-design loads, cavitation erosion, performance while manoeuvring and control strategies. Ultimately though, a company's lead time for brinigng successful propulsion concepts to customers will be a critical factor for success.
Looking at some concepts that could emerge as commercial propulsion solutions in three to five years' time, Garen showed how the company's early research, testing and development addresses the issues of performance, comfort, safety and reliability and customer responsiveness.
Return of triple screw
Some high-profile recent deliveries highlight the potential of triple-screw propulsion, using three propulsors. The most notable examples are Scandlines' new ro-pax ferries Berlin and Copenhagen, both featuring a centre line controllable pitch propeller driven by 13,500kW of engine power (at 164rpm), with two azimuthing wing units generating 3,500kW (at 1,000/229rpm). Finnish Frontier Guard's offshore patrol vessel Turva, built by STX Finland, is another example featuring central controllable pitch propeller with azimuth wing support.
While the triple-screw format offers potential in terms of flexibility and redundancy, there are some questions to be considered before the concept could be applied more widely, notes Garen. The question of whether steering is more effective using just the central combined rudder/propeller, or employing all three propellers, is one such question. The logic for selecting steering options based on the current speed needs to be examined in more detail, in order to control the loads on the azimuth units. Garen notes that modern simulation texchniques are beginning to provide solid guidance in these areas.
Face-to-face propulsion
Two propulsion concepts with potential commercial application come from the megayacht sector, where cost is little barrier and owners seem to enjoy unique technologies as a feature. One such concept is the 'face-to-face' propulsion set-up installed on Feadship-built yacht Savannah, where a shaft line with CPP delivering 1,800kW is faced by a 1,250kW Azipull unit, operating in contra-rotation. The azipull takes advantage of the slipstream from the main propeller to increase efficiency. It also offers operational flexibility – under normal steaming the CPP providers the main power with the azipull used for slight changes of course. At low speed, either azipull or CPP can be used.
There are very few references for contra-rotating propellers to date, primarily because there are risks due to the dynamics the azipull is exposed to. An oblique inflow, which could be created at full speed, can cause vibration which can potentially contribute to fatigue damage and increased vibrations. Managing those risks is a question of control logic that can be overcome by extensive testing, and again modern accelerated simulation techniques are helpful.
Carbonfibre thrusters
Carbonfibre thruster bodies offer some interesting opportunities given the lightweight of the material. One such unit, possibly the first, is installed on the megayacht Benetti Vivace. Rated 2MW and weighing just two tonnes in water, Garen believes the Azipull Carbon unit sets a record in thruster power density.
"This offers a new opportunity for how we approach the yacht market with steerable thrusters," he adds. "This was the gateway to introduce steerable thrusters, offering more flexibility to the layout of the yacht and enabling yacht builders to charge more for their vessels."
The concept features the same low noise and vibrations as traditional azipull thrusters. The lighter units also make a big difference in installation – two carbonfibre units were installed in just four hours. Rolls-Royce already has orders for 26 units already from the yacht market. Garen is wary of scaling up the concept for commercial vessels just yet, but notes that Azipull Carbon is an encouraging first use of none-metallic material in conventional propulsion technology.
One core fits all
Standardisation and modularisation are helpful in commercialising propulsion technology, and Rolls-Royce is taking these ideas forward with the development of a core propeller unit that can be applied to both its conventional and pulling thrusters. The challenge is in making a propeller that can be used across a wide range of applications. The concept is on the drawing board, and Garen says that a demonstrator is two or three years' away.
Permanent magnets
Rolls-Royce has employed permanent magnet motors to drive thrusters for a couple of years now, arguing that they are simpler and more efficient that asynchronous motors as well as reducing vibrations. The company has two tunnel thruster variants and azimuth units in its portfolios. There are relatively few references to date, but Garen expects the technology to be employed more widely – both in references and in product developments – in the coming years.
From the above examples it is clear that the thruster market is far from static in terms of product development. The question will be which of the concepts gain traction in the commercial market – and to date, that is something no amount of technological prowess can help to predict.
The 39th Propulsion & Emissions Conference took place in Hamburg this week.
A full report of the conference is available online here and register your interest here in receiving information about downloading the papers and presentations from the event and to be informed about the 2018 Conference.
For further information, contact the Events team on +44 1329 825335 or email conferences@propulsionconference.com.