The Motorship's 39th Propulsion & Emissions Conference takes place in Hamburg on 10-11 May. Gavin Lipsith spoke to Ole Graa Jakobsen, Vice President, Head of Fleet Technology, Maersk Line – and one of the conference's keynote speakers – about the challenges facing the shipping industry.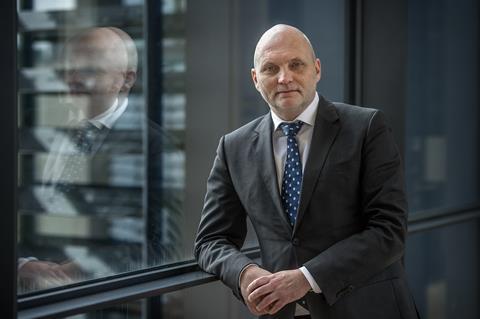 The timing of this year's conference – four months before the entry into force of the IMO's Ballast Water Management Convention and just seven months after the global 0.5% sulphur cap was set for 2020 – highlights the many daunting challenges facing ship owners today. Add to the mix the roll-out of tighter, Tier III NOx limits and a general pressure on shipping to reduce its carbon emissions, and it is clear that the industry needs to look to the future as never before.
As the world's biggest containership operator, Maersk Line will be at the vanguard of that uncertain future. In Hamburg next month, Jakobsen will share how the company is adapting its fleet, with a focus on the technology needed to comply with environmental regulations. Among the key points will be an insight into a retrofit programme, currently around 70% complete, that spans 100 vessels.
"We are looking at which technologies are relevant to operate vessels, given the current environment and the way we are running vessels today," says Jakobsen. "Then we are looking at the drydocking schedule, scoring the technologies to see which are relevant to that ship and making a business application for them to be installed."
The programme comprises propellers, rudders and bulbous bows as well as capacity increases. For the time being, it does not feature the installation of SOx, NOx, or ballast water treatment – Jakobsen explains that Maersk Line already has a programme that can assess which of these technologies is appropriate for each ship, and will install these at the appropriate time.
Sulphur solutions
Maersk Line can say one thing for certain about its emissions reduction strategy: Scrubbers are unlikely to feature. Says Jakobsen: "There's a push against climate change coming onto shipping from the Paris Agreement. If you look at scrubbers, first of all you use energy on running them, and secondly you are looking into burning some cheaper fuels – maybe even cheaper than we have now because you can go higher sulphur. That means you would ruin any kind of business case for saving energy. We really don't think it is a good idea installing these small chemical plants on the global fleet as it is complicating the operation of the vessel."
It may turn out that Maersk Line is forced into using scrubbers if (against analysts' expectations) the majority of ship owners adopt that technology. But it is something the company is keen to avoid. Meanwhile it is almost an exact opposite case with LNG. Here Maersk Line is keen to use the technology – Jakobsen describes it as 'a beautiful solution to several issues we have today' – but to date has been unable to find a compelling economic case.
"We have looked into LNG for the last several years on a regular basis," he reports. "For a retrofit it is uphill, we have made that calculation several times and still not managed to come up with an attractive figure. We have also looked at LNG for every newbuilding project over the last couple of years – asking each time if this will be the time we go for gas - but the economics for that has not really come through."
That story sums up a dilemma facing the industry in the development of gas infrastructure and the LNG-fuelled fleet. Without putting retrofitted gas-fuelled vessels into service, the industry is relying on newbuild vessels using LNG to spur investment in gas supply and bunkering infrastructure. And as Jakobsen notes, "if you are waiting for newbuilds to provide sufficient volume for gas suppliers to invest, it will be a long wait – particularly at the speed newbuild vessels are being ordered and built today."
Whatever decisions Maersk and others eventually take regarding compliance, it is only one side of the equation. Arguably more important is how environmental regulation is enforced. Jakobsen and Maersk Line have a strong position on this subject.
Effective enforcement
"With ballast water technology, and even more so with sulphur, the economic benefit of being non-compliant is huge," explains Jakobsen. "If there is a low risk of getting caught and only a small fine if you do, we are concerned that this would not drive the right behaviour. So, we are supporting ways of improving environmental impact from shipping and making sure that it continues to be an environmentally sound way of transporting goods. But it has to be an even playing field."
Jakobsen's presentation – and that of fellow keynote Stefan Micallef, director, Marine Environment Division, International Maritime Organisation - will be a fitting introduction to a two-day agenda that will dive deeper into all these fronts.
In keeping with the long tradition of the event, engine makers and users will have a prominent position on the agenda. This year we are delighted to host a panel session during which ship operator members of the CIMAC Working Group 10 (Users) will discuss operational experiences and feedback regarding emissions abatement technologies.
MAN Diesel & Turbo, WinGD, Wärtsilä and Caterpillar will be among engine designers presenting their responses to the challenges of the day, including gas-fuelled vessels, meeting Tier III NOx and the complexities of engines for hybrid propulsion configuration – a topic that will be explored in its own right for the first time this year, with a dedicated session on the second day.
Another topic making its debut this year is ballast water management. Representing the ship owner community, Lars Robert Pedersen, deputy secretary general of BIMCO, will be joined for a panel session by two of the three US Coast Guard type approved system suppliers, Optimarin and Alfa Laval and representatives from Goltens Green Technology and Damen Green Solutions.
Further sessions will investigate developments in important technology including turbocharging and cylinder conditioning, as well as an extended look at the impact that digitalisation is having on the operation and maintenance of marine machinery. As usual, the event will be rounded off with two excellent networking opportunities: a Welcome Cocktail hosted by Blohm+Voss at the Hafen Club, and a Conference Dinner sponsored by GE Marine, to be held at Block Bräu, located on the Landungsbrücken.
We look forward to welcoming delegates to Hamburg for a two-day programme that promises to be packed with informed discussion and usable insight.
To learn more about the marine industry's longest-running technical conference and this year's programme, visit The Motorship Propulsion & Emissions Conference website.
Book your place now to join ship owners, operators and managers at the 39th Propulsion & Emissions Conference and to hear keynote addresses by Ole Graa Jakobsen, Vice President, Head of Fleet Technology, Maersk Line and Stefan Micallef, Director MEPC, IMO.
Contact the events team for details of special rates available for ship owners, operators and managers by email at conferences@propulsionconference.com or call +44 1329 825335.
Follow the event on Twitter: @PropulsionConf