Maersk Line, Hapag Lloyd, John T Essberger, Mitsui OSK Lines and Carnival Corporation, who have all chosen different options for compliance, will share their choice for compliance during an Operator Panel Discussion, giving participants the opportunity to question, first hand, these industry experts.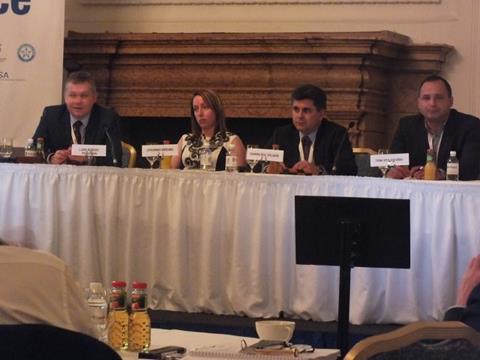 With two operator panel discussions and a further four discussion sessions involving operators and suppliers, delegates will have the opportunity to ask questions and join in the discussion throughout the two days of this year's Propulsion & Emissions Conference.
Following keynote addresses by Stefan Micallef, Director MEPC, IMO and Ole Graa Jakobsen, vice president, head of fleet technology, Maersk Line the first panel discussion entitled 'Preparing the global fleet for future challenges will feature:
Ole Graa Jakobsen, Vice President, Head of Fleet Technology, Maersk Line
Thomas David, Head New Building, Shipmanagement, John T. Essberger
Wolfram Guntermann, Director Environmental Management, Ship Management, Hapag-Lloyd
Kenta Aria, Director of Technical Division MOL
Tom Strang, SVP, Maritime Affairs, Carnival Corp.
Following a short presentation on the world's largest containership, the 20,170 TEU MOL Triumph, which is designed as 'LNG ready' and which will give 25-30% fuel and emissions savings compared with 14,000 TEU-class containerships by Kenta Aria, each panellist will give an overview of the option their company has chosen to conform with current and forthcoming sulphur regulations which include the use of LNG and scrubbers.
The Propulsion & Emissions Conference goes from strength to strength and this year's event will again deliver high calibre speakers whilst also giving delegates the opportunity to participate in discussion sessions and to network and knowledge share. The Conference will start with a Welcome Reception, hosted by Blohm & Voss, on 9 May 2017, the Conference Dinner, sponsored by GE Marine, will take place on 10 May 2017, both of which all participants are invited to attend.
View the full programme here.
The annual Motorship Propulsion & Emissions Conference is recognised as the most technically informative as well as the longest established conference for the global shipping industry. For further information contact the Events team on +44 1329 825335 or email conferences@propulsionconference.com.
Follow the event on Twitter: @PropulsionConf