Maersk Tankers is to conduct a test of wind propulsion technology using Flettner rotors supplied by Norsepower, under a project coordinated by Shell and majority funded by the UK's Energy Technologies Institute.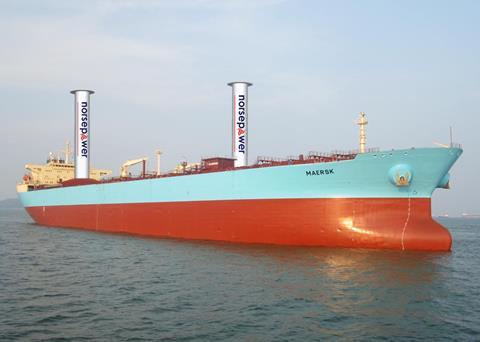 The project represents the first installation of Flettner rotors on a product tanker, and will involve two 30m tall rotors fitted to a 109,647 dwt LR2 vessel between mid-2018 and the end of 2019. The project partners anticipate fuel consumption savings of 7-10% on typical global shipping routes.
Shell will provide operational and terminal/port consultancy to the project team, while Maersk Tankers will provide technical and operational insight. Independent experts will analyse the data gathered from the project before publishing technical and operational insights and performance studies.
Tommy Thomassen, chief technical officer, Maersk Tankers, explained: "Together with our partners we have the opportunity to deploy an innovative technology that can improve fuel efficiency on our LR2 product tanker vessels and help to reduce their environmental impact. We look forward to contributing to the project, and sharing our decades of experience and knowledge within safety and tanker operations."
The Norsepower rotor sail, made from lightweight composites, is an updated version of the Flettner rotor, which uses the Magnus effect around a spinning cylinder to harness wind power to propel a ship.
Andrew Scott, programme manager HDV marine and offshore renewable energy, ETI, added: "Flettner rotors have the potential to reduce ship fuel consumption substantially, especially on tankers and dry bulk carriers. It is one of the few fuel saving technologies that could offer double digit percentage improvements.
"To date, there has been insufficient full=scale demonstration on a suitable ocean going marine vessel to prove the technology benefits and operational impact. Demonstrating the technology in this project will make it more attractive to shipping companies and investors, and could play a significant role in reducing the fuel costs and improving the environmental impact of shipping in the future."
The project is the third part of an ETI initiative to further development in fuel saving technologies. As reported, the organisation has also funded projects to research, develop and test waste heat recovery systems, with AVID Technology and Royston, and to develop a highly efficient propulsion system (comprising propeller, rudder and pre- or post-swirl devices) with Teignbridge Propellers International.
Book your place at the Propulsion & Emissions Conference to find out more about hybridisation solutions and to ask Norsepower questions as they will be presenting in the 'Embracing hybridisation' session and participating in the panel discussion following.
For further information contact the Events team on +44 1329 825335 or email conferences@propulsionconference.com.
Follow the event on Twitter: @PropulsionConf