Book your place now to hear about the world's largest containership, the 20,170 TEU MOL Triumph, which is designed as 'LNG ready' and which will give 25-30% fuel and emissions savings compared with 14,000 TEU-class containerships.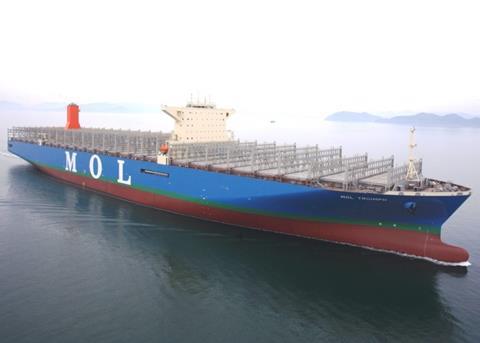 MOL recently announced that they had taken delivery of the MOL Triumph, which provides multiple alternatives for compliance with the global 0.5% fuel sulphur cap due to enter force on 1 January 2020. Delegates will hear Mr Kenta Aria, MOL's Director of Technical Division, on the features and benefits of the vessel, at the start of the Operator Panel discussion entitled 'Preparing the global fleet for future challenges.
Other panellists include: Ole Graa Jakobsen, Vice President, Head of Fleet Technology, Fleet Management & Technology, Maersk Line, Thomas David, Head New Building, Shipmanagement, John T. Essberger, Wolfram Guntermann, Director Environmental Management, Ship Management, Hapag-Lloyd. Per A. Brinchmann, Vice President, Technical, Wilh Wilhelmsen
With two operator panel discussions and a further four discussion sessions involving operators and suppliers, delegates will have the opportunity to ask questions and join in the discussion throughout the two days of the conference.
The Propulsion & Emissions Conference will inform participants about the latest advances in engine technology, emerging technologies for cylinder conditioning, turbochargers and propulsion systems for today's shipping market, as well as the forthcoming ballast water convention, hybridisation and digital strategies to drive efficiencies in vessel performance. Furthermore, the second Operator Panel will feature the CIMAC Engine Users Working Group will feed back on IMO Tier I retrofit, plus Tier II and III practical acceptance and more.
The Propulsion & Emissions Conference goes from strength to strength and this year's event will again deliver high calibre speakers whilst also giving delegates the opportunity to participate in discussion sessions and to network and knowledge share. The Conference will start with a Welcome Reception, hosted by Blohm & Voss, on 9 May 2017, the Conference Dinner, sponsored by GE Marine, will take place on 10 May 2017, both of which all participants are invited to attend.
View the full programme here.
The annual Motorship Propulsion & Emissions Conference is recognised as the most technically informative as well as the longest established conference for the global shipping industry. For further information contact the Events team on +44 1329 825335 or email conferences@propulsionconference.com.
Follow the event on Twitter: @PropulsionConf