Saga Shipholding has installed Optimarin Ballast Systems (OBS) on its entire fleet of 32 advanced open hatch cargo vessels.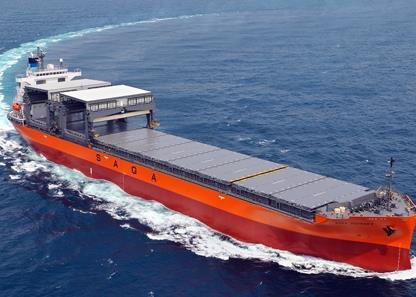 This means Saga is one of the first shipowners to fit ballast water treatment systems that are USCG compliant throughout its fleet.
"We've now enjoyed close to five years of reliable, simple and efficient BWT operation," said Nils Otto Bjorhovde, Saga Shipholding's Hong Kong-based technical manager.
He added: "Saga prides itself on being a responsible shipowner and we understand that untreated ballast water is a major threat to marine biodiversity. With that in mind we took an early adopter position on BWT, thoroughly researching the segment for a market proven system that would be both effective and future proof in terms of compliance. That way we could deliver optimal value to all our stakeholders on this investment."
The first installation of Optimarin's BWT system was back in 2012 on-boat the Saga Future and the final installation was completed on the 47,000 dwt open hatch carrier Saga Viking during a scheduled docking in China.
This vessel, along with the rest of the Saga fleet, operates with the primary purpose of transporting pulp from South America to markets in Europe and the Far East.
Tore Andersen, Optimarin CEO, said: "We've been focused on BWT for a very long time now, since we formed the business in Stavanger, Norway in 1994. So, we've spent more than 20 years perfecting the system, but also working alongside shipowners like Saga so we fully understand their individual needs and requirements."
He concluded: "We appreciate that shipowners want complete peace of mind with BWT – ranging from carefree installation, operation and maintenance, through to compliance with the most stringent global standards. That's what they want, so that's what we give them. There's no one else in the market that can match us in that regard."
Alongside approval from IMO and USCG, Optimarin's technology is certified by a comprehensive range of classification organisations, including DNV GL, Lloyd's, Bureau Veritas, MLIT Japan, and American Bureau of Shipping.
Book your place at the Propulsion & Emissions Conference to find out your options for complying with the Ballast Water Convention coming into force in September 2017.
Join ship owners, operators, ship designers, engine manufacturers and suppliers and classification societies to network, discuss, debate and share information on the pertinent issues facing these key stakeholders at this crucial time for the shipping sector.
Ship operator members of BIMCO and VDR will receive a 50% discount.
Contact the events team for details of special rates available for ship owners, operators and managers by email at conferences@propulsionconference.com or call +44 1329 825335.
Follow the event on Twitter: @PropulsionConf