Join leading operators such as Maersk Line, Mitsui OSK, Hapag Lloyd, organisations, including IMO, BIMCO, VDR, classification societies - DNV GL, Bureau Veritas - OEMs including Man D&T, WinGD, Caterpillar and many more blue chip companies to discuss technical advances and first-hand experiences that will equip the industry to 'future-proof' the global merchant fleet.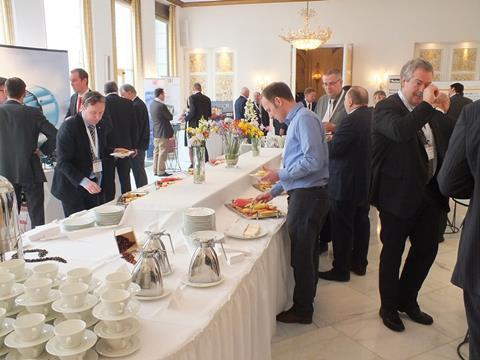 The 39th Propulsion & Emissions Conference will inform participants on a range of efficiency measures to reduce operational costs and to optimise fleet performance. Building or retrofitting vessels fit for the future, whatever it may hold, is more challenging than ever before. Environmental regulations, economic pressures and technological advances are already reshaping how the global merchant fleet is fuelled, powered and equipped.
Bringing together owners/operators and equipment manufacturers to discuss technical advances and in-the-field experiences, the Conference has become a firm meeting point in the calendar for the shipping industry and, with an ever-growing number of ship operators confirming their attendance, this year's event will again deliver a high-calibre audience of fleet directors, technical and managing directors, all looking for solutions to the ongoing challenges the industry is facing.
Delegates will benefit from hearing a round-up of the latest technical developments and case studies on cost saving and emission reducing innovations from industry leading operators, suppliers and classification societies including:
Performance Optimization for Tier III compliance of WinGD 2-stroke engines: Thomas Werner, Tier III Programme Manager
Two-stage turbocharging developments: Paolo Tremuli, Senior Manager Sales & Application Engineering, ABB Turbocharging
A multi-fuel future: the impact of the IMO global sulphur cap on fuel and lubricant selection:Iain White, Global Marketing Manager, ExxonMobil Marine Fuels & Lubricants
Advanced lubrication strategies for reliability and minimised Operational Expenditure: John Schackel, Product Application Specialist Marine, Shell Global Solutions
Ballast Water Treatment retrofit: the process and approach: Jolanda Matthijssen, Logistics & QHSE Manager, Goltens Green Technology
Performance monitoring and optimization on long distance sea passages of container liner vessels: Andrew Rayner, Key Account Manager, Eniram, & Andreas Mrozek, Deputy Director Logistics, Global Marine Operation, Hamburg Sud.
Stefan Micallef, Director MEPC, IMO and Ole Graa Jakobsen, vice president, head of fleet technology, Maersk Line will give the keynote addresses and with two operator panel discussions and a further four discussion sessions involving operators and suppliers, delegates will have the opportunity to ask questions and join in the discussion throughout the two days of the conference.
As well as providing technical solutions for compliance with emission regulations together with cost saving and performance enhancing solutions, this year's Conference will provide additional opportunities for networking and discussion. Delegates will have more knowledge sharing opportunities during panel discussions built into the programme, as well as networking throughout the refreshment breaks and lunches, and at the Welcome Reception and Conference Dinner.
Shipowners and operators qualify for special rates, contact the events team for details. View the full programme here.
For further information contact the Events team on +44 1329 825335 or email conferences@propulsionconference.com.
Follow the event on Twitter: @PropulsionConf