The Conference Dinner is always an excellent opportunity for delegates to continue networking with peers from across the industry and this year's event, sponsored by long term supporter, GE Marine, is yet again set to be an exceptional evening at BLOCKBRÄU, famous for brewing their own beer.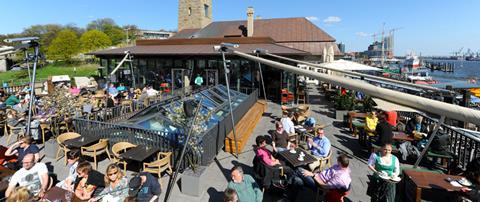 Situated in the Port of Hamburg, BLOCKBRÄU has become renowned amongst Hamburgers and visitors from around the world for its fantastic location in the Port of Hamburg and for its food and beverage offerings.
Following a busy first day at the Conference, delegates will have the opportunity to relax and to meet and exchange views with other delegates in a relaxed setting at the dinner, which will take place on the evening of 10 May 2017.
Sponsor of the dinner, GE Marine's gas turbines operate worldwide for diverse commercial marine customers on cruise ships, fast ferries, high speed luxury yachts, FPSOs and offshore platforms. GE Marine will also participate in the Conference with a presentation in the session on 'Digital strategies for vessel and fleet optimisation' with the following presentation:
Digital transformation of the Marine industry: Denis Grynzspan, Digital Marine Business Leader, GE's Marine Solutions
The Marine industry is being impacted by market fluctuations, oversupply and budget pressures. Data analytics powered by the industrial internet could unlock new operational efficiencies and redefine competitiveness in this sector, just as they have transformed other industries such as Aviation and Power. This paper will explore how solutions such as Asset Performance Management (APM) can optimize marine operations with data-driven decisions and help accelerate the digital transformation journey.
Join ship owners, operators and manager, ship designers, ship yards, ship builders, engine manufacturers, classification societies, industry associations and other stakeholders at the 39th Propulsion & Emissions Conference.
An invitation to the conference dinner is included in your delegate place.
The annual Motorship Propulsion & Emissions Conference is recognised as the most technically informative as well as the longest established conference for the global shipping industry. For further information contact the Events team on +44 1329 825335 or email conferences@propulsionconference.com.
Follow the event on Twitter: @PropulsionConf