Powering shipping's emissions-cutting ambitions, Propulsion & Future Fuels will unite an audience of the world's foremost experts on marine propulsion and fuel technology for two days of parallel streams and plenary sessions.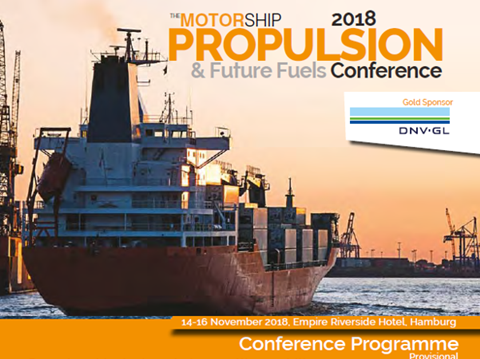 Celebrating 40 years of The Motorship Conference, PFF will focus on practical and technical developments in the fields of propulsion technologies and alternative fuels.
In addition to this landmark event, The Motorship is pleased to announce the release of The Motorship Award which will be integrated into the PFF 2018 programme. Successful nominees will be invited to present their projects to the Propulsion & Future Fuels audience during the plenary sessions. The winner will be announced after a live vote on the final day of the conference.
The programme outline is now available to view online, and will cover topics such as;
Investing in the future fleet – a shipowner panel featuring experts from across the sector
Engine design for the future – session covering cutting edge engine design in light of environmental and performance challenges
Understanding the future fuel mix
Building compliant ships: Beyond engine power and machinery - efficient ship design will be key to meeting long term energy efficiency targets
Two industry-leading associations have provided chairmen for the event – Reinhard Lüken, CEO of the German Shipbuilding and Ocean Industries Association (VSM) will be chairing day one of the conference and Lars Robert Pedersen, Deputy Secretary General of BIMCO will chair day two.
Like what you see on the programme? Book your place today to benefit from the limited time 20% early bird discount. Enjoy a saving of €380 on your delegate place which includes; conference attendance on both days, full documentation in print and electronic format, lunch and refreshments on both days, place at the networking drinks reception, place at the conference dinner and a place on the technical visit.
Visit our website and enter code early at the checkout or call the team on +44 1329 825335.