The provisional programme for Propulsion & Future Fuels 2019 is out now! The conference will take place at the Sofitel Alter Wall Hotel in Hamburg, Germany, from 19-21 November.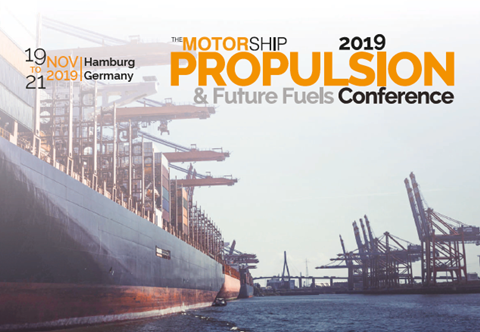 This year's programme features a number of future fuel showcase sessions featuring alternative and low flashpoint fuels such as LNG, ammonia, hydrogen, batteries, methanol and more. There will be a focus on zero emissions, with particular emphasis on the transition period and the fuels which will facilitate it.
View the programme here!
Session titles on this year's programme include:
Cutting carbon, cutting cost to meet the 2050 deadline: Shipowners tackle emissions reduction
Future fuel showcase: Hydrogen
Digitalisation
Legislation vs longevity –uptake of scrubbers, ULSFOs and LNG
Innovative project showcase
Future fuel showcase: LNG
Future fuel showcase: Ammonia
Powering shipping with alternative fuels
Electrification solutions: Batteries and hybridisation
Carlo Raucci of UMAS will kick off the start of the conference presenting Zero-Emission Vessels Transition Pathways study as his keynote address, which will explain what the transition will look like and how we make it happen.
A panel of shipowners tackling the topic of emissions reduction and discussing their current and future fleet will follow the keynote session and delegates will be invited to join the discussion moderated by the conference chairmen Lars Robert Pedersen, Deputy Secretary General, BIMCO & Martin Kröger, Managing Director, German Shipowners' Association – VDR.
Confirmed speakers include:
Olav Hansen, Senior Principal Consultant Lloyd's Register
Poul Woodall, Director - Environment & Sustainability, DFDS
Michael Green, Global Technical Manager, Intertek ShipCare
Rolf Stiefel, Vice President Sales, WinGD
Christian Hoepfner, Managing Director, Wessels Marine GmbH
Kjeld Aabo, MAN ES
Christos Chryssakis, Business Development Manager, DNV GL
Paul Flaherty, Director, Fleet and Technical Operations, Navigator Gas
Click here to view the provisional programme online.
On day three, delegates are invited to join us for the Technical Visit where experts will be on hand to answer questions. Places on the visit are limited, so early booking is advised.
There is less than one month left to book your place using the 20% early bird discount, so book today to save nearly €400 on delegate places including attendance of networking events, a packed programme and full conference documentation in electronic format.
Simply visit our website and enter code early at the checkout or call the Events team on +44 1329 825335.