Qatar Petroleum signed a substantial agreement with three major South Korean shipyards for the construction of over 100 LNG carriers on Tuesday, 2 June. The near US$20 billion (70 billion Qatari riyal) agreement reserves newbuilding capacity at the shipyards until 2027.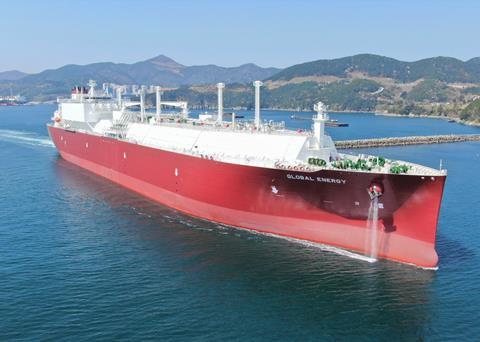 The agreement was signed with Daewoo Shipbuilding & Marine Engineering (DSME), Hyundai Heavy Industries (HHI) and Samsung Heavy Industries (SHI) in a remote ceremony by QP's ceo and president, Qatar's Minister of State for Energy Affairs Saad Sherida Al-Kaabi.
Mr. Sung Geun Lee, the President and CEO of DSME, Mr. Sam H. Ka, the President and Board member of HHI, and Mr. Joon Ou Nam, the President and CEO of SHI signed the agreement on behalf of the shipyards.
"We have secured approximately 60% of the global LNG shipbuilding capacity through 2027 to cater for our LNG carrier fleet requirements in the next 7-8 years, which could reach 100+ new vessels with a program value in excess of 70 billion Qatari Riyals," Mr. Saad Sherida Al-Kaabi noted.
The LNG carriers themselves will be propelled by the latest generation slow speed dual-fuel engines, Saad Sherida Al-Kaabi noted.
Qatar Petroleum's LNG carrier fleet program is the largest in the history of the LNG industry. The Motorship notes that the eventual scope of the program could exceed 100 vessels, based on LNG expansion projects in Qatar (the North Field Expansion) and the US (Golden Pass). Renewals of older LNG carriers could also lift the size of the eventual order.
The order follows QP's agreement to construct up to 16 LNG carriers with Hudong-Zhonghua Shipbuilding, a subsidiary of China State Shipbuilding Corporation (CSSC) on 22 April.
A SHI official commenting on the announcement noted that the historic order was expected to encourage other shipping companies to bring forward their own large-scale LNG carrier plans. SHI was expecting to receive orders for a further 10 LNG carriers in connection with the Arctic LNG 2 project in Russia and 5 LNG carriers for LNG projects in Mozambique this year.