Eco Marine Power says that its Aquarius Management and Automation System (MAS) has now been integrated with a marine solar panel array on board the ferry 'Blue Star Delos''.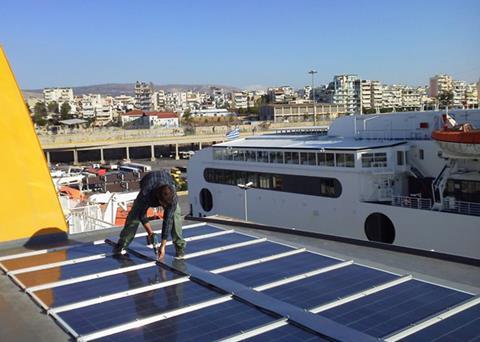 The Aquarius MAS has been installed by EMP and its project partners as part of a joint renewable energy project with Blue Star Ferries. The trial solar array is now in operation and providing a potential 2kW of renewable energy for the ship.
EMP says this means that the company has taken the Aquarius MAS from development to commercial use in just a few years and is also a critical step towards the commercial release of its Aquarius MRE (marine renewable energy) combined wind and solar power system for shipping.
The Aquarius MAS installed on Delos includes a KEI 3240 CPU/AGU, LCD touch-screen monitor, input/output link system (ILS), associated hubs, power supplies and charge controllers plus an FC-38 battery pack from Furukawa Battery Co and flexible marine-grade solar panels from Solbian Energie Alernative.
In additional to monitoring the performance of the solar panel array, the Aquarius MAS will report on the status of the battery pack plus, when the ship is at sea, display in real-time the fuel consumption of the main engines and calculate emissions. (CO2, NOx & SOx) The installation on the ship was carried out by Blue Star Ferries own technical team and EMP's technical partner in Greece, Triad.
Greg Atkinson, chief technology officer at Eco Marine Power said: "The Aquarius MAS and solar power installation on Delos demonstrates that solar power on ships combined with a flexible data logging and alarm handling platform makes sense. Not only will the system allow Blue Star Ferries monitor their fuel use and emissions but it will also help the company reduce fuel consumption by tapping into the limitless and clean power provided by the sun."