Goltens has undertaken the overhaul of dual-fuel auxiliary engines to a tight timeline onboard an LNG tanker during scheduled maintenance in Singapore.
A team of engineers carried out an 18,000-hour overhaul on four Wartsila 12V50DF auxiliary engines within 14 days, as part of a planned maintenance programme. The job was completed while the vessel was undergoing scheduled maintenance at a Singapore shipyard.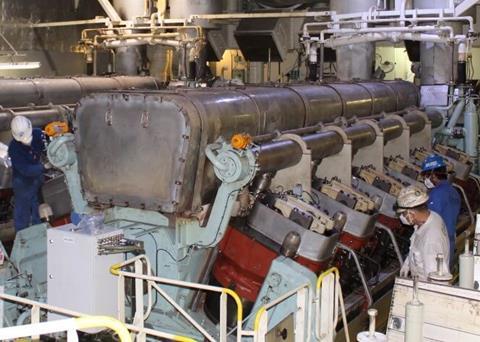 Goltens drafted the work schedulem, which included the replacement of parts where necessary. The scope of work included the inspection and overhaul work on the cylinder heads, and the pressure test and renewal of intake and exhaust valves, valve seats and guides, and the inspection, calibration and crack test of pistons and connecting rods. The fuel injection systems were overhauled, and the the cylinder liners were calibrated and honed.
The 18,000-hour overhauls were successfully completed within the 14-day window required by the customer. All engine safety devices were checked and found to be working normally and a running in program was carried out as per the maintenance manual. Once completed, the dual fuel engines were tested up to 100% load and all engine parameters were found to be normal prior to handing the engines over to the vessel's Chief Engineer.