Alongside the flourishing offshore support ship industry, the ro-ro sector has been picking up some welcome orders, which has been good news for the major four-stroke engine companies.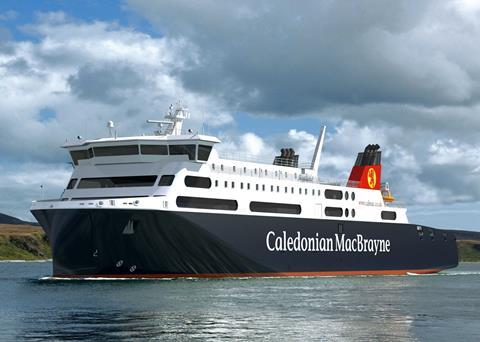 Wärtsilä is to supply main engines and auxiliary generating sets for a new coastal ferry for service in Scotland. The ro-pax ship, with carrying capacity of 700 passengers and 143 cars or 26 trucks, has been ordered by Lloyds Banking Group for leasing to operator Caledonian Maritime Assets Ltd (CMAL). It is being built at the Flensburger Schiffbau Gesellschaft (FSG) shipyard in Germany.
According to Wärtsilä, the yard required engines that were commercially competitive, compact and light in weight. The package selected comprises two 8-cylinder in line Wärtsilä 32 main engines and three 8-cylinder in line Wärtsilä 20 gensets, which weigh in at a total of 151.4t, said by the company to be the lowest weight in this particular class. A low weight for the machinery makes a significant contribution to the low overall weight of the vessel itself, permitting carriage of a relatively high payload in a ship whose size is restricted by the dimensions of the ports serving the Scottish islands. Good fuel efficiency and low levels of emissions were also important considerations in the selection process. The new ferry is specified for round-the-clock operation, because when it enters service in 2014, it is planned to replace two existing ships on the route connecting the mainland of northwest Scotland with the Isle of Lewis in the Hebrides.
"CMAL is a progressive, forward-looking company focused on design optimisation for lowest emission, lowest fuel consumption and best vessel availability. This approach is a perfect match with Wärtsilä's strategy. We have worked closely with both the owner and the yard earlier, and we have been privileged to work with them again on this project," said Aaron Bresnahan, vice president, sales, at Wärtsilä Ship Power.
Andrew Duncan, director of vessels at CMAL, commented: "We are pleased to announce that Wärtsilä main and auxiliary engines are to be installed on the new build ferry currently being designed at Flensburger Schiffbau Gesellschaft. The engines were selected as the most suitable for the project due to their overall performance in terms of fuel consumption, emissions, weight and size."
The new vessel is designed to carry 700 passengers and 143 cars or 26 trucks. It is scheduled to go into service in 2014.
Power for Visemar ro-ro
Italian operator Visemar has specified a propulsion package from Augsburg, Germany-based MAN Diesel & Turbo for a new ro-ro vessel ordered from Cantiere Navale Visentini, near Venice, Italy. The propulsion package is based on two 9L32/44CR medium-speed engines.
Each engine will be rated for 5,040kW at 750rpm and will drive Alpha CP propellers through Renk RSV 900C gearboxes. The engines fulfill IMO Tier II regulations and will be built at MAN Diesel & Turbo's Augsburg works in Germany from where they are scheduled for delivery to the yard in August 2013. The newbuilding is planned to be handed over to the owner in April 2014 and, according to MAN, having already been granted a 'green passport' and green star certification, will be one of the most efficient and environmentally friendly vessels in its class.
Owner Visemar specified that the ship should deliver among the best efficiency and fuel consumption in its class, something which Sokrates Tolgos, MAN Diesel & Turbo head of cruise and ferry sales said would be achieved with the MAN package: "This MAN propulsion system with common-rail engines gives the customer a perfectly synchronised, high-efficiency solution. The engines' common-rail fuel injection, with its high flexibility, is central to their meeting Tier II exhaust-gas requirements at the lowest possible fuel-consumption, especially in part load."
Mr Tolgos continued: "Another important benefit is the engines' unmatched performance in terms of minimum smoke emissions, even with lower-quality fuels like HFO. We are very pleased that Cantieri Navali Visentini and shipowner Visemar, two long-standing customers of MAN Diesel & Turbo, expressed their confidence in our company by asking us not only to supply the engines but, additionally this time, the complete propulsion package including MAN Alpha CP propellers.
The propulsion system has been optimised by MAN Diesel & Turbo in close cooperation with the Cantieri Navali Visentini shipyard and NAOS, an Italian ro-pax/ro-ro ship-design specialist. The Alpha CP propellers are from MAN's new HUB Mark 5 series, which employs a propeller blade design tailored to the particular project, to deliver a particularly favourable propulsive efficiency, leading to claimed substantial fuel-oil savings for the complete propulsion plant. Similarly, the Renk gearboxes are said to operate at very low friction levels, incurring fewer losses and a higher efficiency.
Auxiliary systems for LNG ship
The Viking Grace ro-pax ferry (see The Motorship, January 2013), the first ship of its type to be fuelled primarily by LNG, has now entered service – and has been announced as the venue for the 2013 Motorship Gas Fuelled Ships conference.
Details have been received of the ship's various auxiliary systems, including UPS (uninterruptible power supplies), provided to support critical loads such as emergency lighting and key shipboard services. The UPS systems onboard Viking Grace were supplied by international company Eaton Corporation. The main unit is an Eaton 9390M rated at 120kVA, while for other essential groups of loads, Eaton's smaller 9355M and 9155M UPS systems were chosen. Three 20kVA units are used to support the vessel's data and networking installation, key automation systems, and the on-board HVAC installation, while a further 40kVA unit supplies the navigation systems. Additionally, two 8kVA UPS devices are provided to support the propulsion systems.
Eaton says that its marine UPS units are designed for compact dimensions and easy installation with mounting rails that can be welded or bolted to the deck or bulkhead. They have integral shock absorbers to protect them against the effects of vibration and require front access only for maintenance.
The UPS systems selected for Viking Grace are double-conversion types to provide a high level of protection for connected loads by isolating the output power from all input anomalies. The units incorporate active power factor correction (PFC), which provides an input power factor of 0.99 at less than 4.5% total harmonic distortion, minimising interference with the operation of sensitive equipment and providing compatibility with shipboard supplies derived from generators.
The systems employ Eaton's ABM (advanced battery management) technology, based on a three-stage intelligent charging process that optimises recharge time, prevents overcharging and monitors battery condition, helping to extend battery life and thus reduce total cost of ownership.
"We have been using electrical equipment from Eaton for many years," said Ville Talsi, responsible for the electrical distribution system for the Viking Grace at builder STX Finland.
L-3 companies SAM Electronics and Valmarine provided a suite of electronic equipment for Viking Grace, including a NACOS Platinum integrated navigation control system and a Valmatic Platinum integrated automation system. The bridge system comprises four S- and X-band radars linked to a series of five multi-function workstations for control of all main radar, ECDIS and conning operations in addition to those for automatic steering and voyage planning. Supplementary workstation consoles and displays are located at starboard and port wing areas as well as the captain's cabin. Secondary sensors, consisting of AIS, VDR, DGPS, doppler log and echosounder navaids, additionally include SAM's bridge navigational watch alarm system (BNWAS).
The Valmatic Platinum integrated automation system provides control of all machinery and includes added capabilities for vessel power management and emergency shutdown. Complete management control is achieved through a dedicated communications network connected to multifunction workstations in the engine control room and on the bridge. In addition, the system includes four control/monitoring workstations around the vessel and a ship-wide network for monitoring access via portable multifunction workstations.
Also interfaced via redundant connections to the system's communications network is an Emergency shutdown system (ESD). An independent facility based on the same platform, it operates its own process control station communications network, remote IO units, hard-wired control panels and associated workstations.
Reliability pays off
Voith reports that thanks to a good service record clocked up by the Voith Schneider propulsion units on two ferries in Canada over the last 45 years, similar systems have been ordered for the replacement vessel.
Since 1968, double-ended ferries Shelter Bay and Galena Bay have been transporting passengers and vehicles between the eponymous bays on the Upper Arrow Lake. Conditions for the propulsion units are particularly demanding, with forestry activity around the lake resulting in logs and driftwood floating in the water.
The new ferry has been ordered by British Columbia Transportation Authority and will be built by Waterbridge Steel. At around 97m long and 20m wide, it will carry 250 passengers and 80 cars, more than twice the capacity of the previous ships, and will operate for around 7,000h/year.
Waterbridge has specified three type 18R5 EC/150-1 Voith Schneider propellers, two of which will be arranged diagonally in the ship, with the third available as a spare. Blades will be made of stainless-steel to minimise the effects of impacts from driftwood or ice. In addition to the VSPs, Voith will supply two turbo-couplings as well as the propeller control system for the project. The couplings are intended to ensure soft start-up of the diesel engines and dampen any torsional vibrations. A 'combination mode' integrated into the control system ensures reduced fuel consumption, by optimising propeller pitch and engine speed for maximum efficiency.
Lower maintenance costs
ABB has announced a long-term contract from Star Cruises for preventive maintenance of all ABB equipment on-board SuperStar Virgo for five years, starting 1 January 2013.
The service contract covers periodic maintenance visits scheduled when they least disturb SuperStar Virgo operations. A long-term approach to maintenance and reduction in the variable costs caused by maintenance-related actions make budgeting more predictable. Additionally, the contract is claimed to ensure effective communication and transparency between Star ship-management and ABB engineers.
"A lot of effort and time has been put into coordinating several small service providers to do the maintenance of Star vessels", Mikael Mattsson AVP marine operation, Star Cruises. "Through this service agreement, ABB becomes our sole service provider for equipment such as rotating machines, switchgears, transformers, drives, automation etc, considerably optimising the maintenance process".
"The market is looking for ways to increase safety and uptime of vessel operation, while extending the lifecycle of their assets and making costs more predictable", said Heikki Soljama, head of ABB's marine and cranes business. "ABB has responded very successfully to this demand with a wide range of service agreements that provide security to our customers' operations and business. In ABB, this has been the basis for building long-lasting and trusting relationship with ship managers and ship owners".
ABB has won orders worth $160 million from Jurong Shipyard for the design, supply, supervision of installation, testing and commissioning of the main electrical systems for seven next generation drill ships that will operate in the deep water oil and gas fields off the coast of Brazil.
The seven vessels are the first in a series of high-efficiency drill ships designed for ultra-deep water operations and built at the Estaleiro Jurong Aracruz shipyard in Brazil, owned by the Jurong Shipyard based in Singapore.
ABB's scope of supply includes complete electrical systems including generators, distribution switchboards, transformers, drives and motors to power the ships' thrusters and drilling systems. The seven drill-ships will be chartered to Petrobras for 15 years. Three of the ships will be partially owned and operated by Odfjell and three by Seadrill, both Norwegian based companies.
Meanwhile, Cavotec says it has has won a "substantial" order from ABB for 20 compact Marine propulsion slip-ring (MPS) units that will be fitted to Azipod propulsion systems.
The MPS units enable propellers to rotate through 360 degrees in the vertical axis thus providing steering. The units ensure the safe transmission of electrical power for the main motors, and auxiliary services such as power, control and data signals, as well as hydraulic oil, water and compressed air. Cavotec MPS units are used on cruise and container ships, and special service vessels such as icebreakers and coast guard ships.
"Cavotec and ABB have a long-standing relationship spanning several areas, including advanced ship propulsion technologies. This order is another example of our enduring and valued cooperation," said Cavotec Shanghai managing director, Gustavo Miller.