Containerised engines, fuel tanks, battery packs and even accommodation blocks have been employed in 'Electric Blue', a 1,000 teu container feeder ship concept from Rolls-Royce Marine.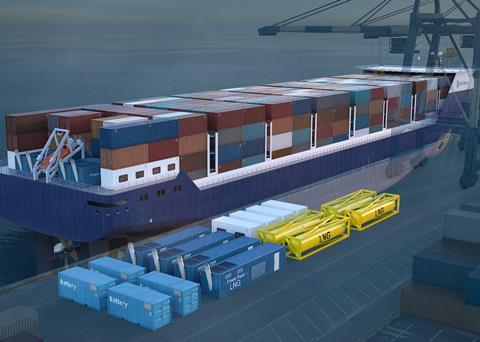 According to the company, Electric Blue provides a potential answer to two major challenges for shipping. The modularity of machinery onboard, the use of high-speed rather than medium or low-speed engines and the absence of both ballast water handling (the result of a novel hull form) and a fixed accommodation block mean that the ship hull can be designed and built at lower cost. The concept requires around 1,000 tonnes less steel than a conventional newbuild with medium-speed engines, resulting in a €2.5 million saving in vessel cost (excluding batteries).
The vessel is also intended to be ready for future operations. Modular equipment enables the switching in or out of machinery to respond to regulatory requirements (changing fuel types, for example). The bridge concept, located below deck and using an advanced sensor array to provide automatic lookout and decision support, is designed so that it can be replicated on shore for future remote operation.
The use of equipment modules also allows ship owners to embrace what Rolls-Royce describes as 'low cost smart shipping'. By building a fleet of standardised hulls with interchangeable modular machinery, operators can reduce costs by deploying machinery and hull assets more efficiently, as well as making performance benchmarking easier across their vessels. Modular machinery can also be taken off the ships for repairs, saving on costly maintenance onboard.
Rolls-Royce has proposed a twin shaftline propulsion system driven by permanent magnet motors, which the company says offer high efficiency at low maximum continuous rating compared to the induction motors traditionally used for electric propulsion. Providing power will be LNG-fuelled MTU6V4000 engines, with Saft Seanergy battery modules providing a potential energy storage option.
Pointing to the many challenges facing the industry – including uncertainty over fuel prices, trade patterns, future regulations and emerging technologies - Oskar Levander, vice president concepts & innovation, said: "It is not easy for ship owners to decide what to invest in when they buy a new ship. To be future-proof a vessel needs to be adaptable for different kinds of trades, operations and regulatory requirements. This feeder is one example of a flexible design that allows owners to face the uncertainties of the future."
A detailed description of the Electric Blue concept will be presented in the March issue of The Motorship.