Launched at the end of 2012, GAC's automated hull cleaning unit EnvironHull – a remotely operated machine that can perform rapid underwater hull wiping – will soon be launched in several more key markets.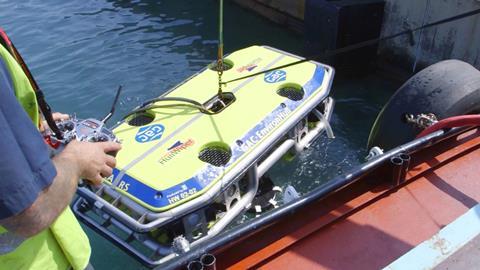 The system is already available in the UAE and between Oslo and Malmo in the Nordic region. Last year EnvironHull cleaned 150 vessels. This year Christer Sjödoff, vice president – solutions at GAC anticipates that will treble. The launch of the service in Singapore last month - and further anticipated openings this year in Valencia, Rotterdam and Bergen – will drive the company to that goal.

The proposition is simple. EnvironHull uses sensitive, high-pressure water jets (with no toxic cleaning agents needed) to clean hulls in a way that both eliminates the need for divers and causes less wear on paints and coatings. Sjödoff explains that from a 450µ hull coating, traditional underwater cleaning will remove up to 150µ, meaning just three cleans before the paint is completely removed. EnvironHull removes just 6-7µ.

"The price of cleaning is higher, but the cost is lower," notes Sjödoff. He calculates a cost of US$40,000-70,000 for each clean using traditional methods, including the reapplication of paint, compared to around US$30,000 per use for EnvironHull.

There are other benefits too. The water-only system is not toxic to the sea, and cleaning can be carried out much faster – at five times the speed for diver cleaning, Sjödoff says – enabling vessels to be cleaned during short port stops.

But arguably the most valuable benefit of EnvironHull is the lives it will save. Diver cleaning is a notoriously dangerous operation, with propellers and high-suction sea chests among the hazards for divers. EnvironHull requires no personnel in the water, just one remote operator who also maintains the machine.

Those advantages go some way to explaining the early success of the concept. And with plans to open a further four stations every year, EnvironHull is set to become an increasingly accessible tool for ship owners looking to cut down on cleaning costs and time, minimise coating wear and – ultimately – save lives.