Scandlines' new hybrid ferries 'Berlin' and 'Copenhagen' are to employ an innovative treatment that will simplify the disposal of water used by their scrubbers to remove sulphur from exhaust.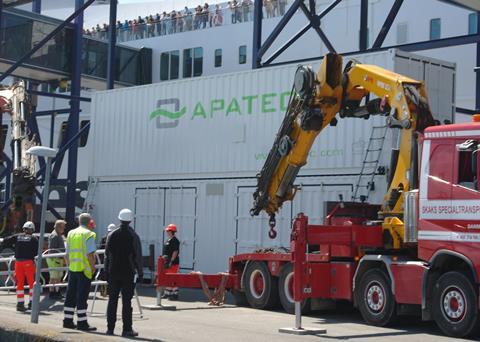 As reported, the ferries are driven by a hybrid propulsion system which combines traditional fuel with electric battery power. The two new ferries have also both been fitted with closed-loop scrubbers to meet sulphur regulations.
The ferries, which operate on the Rostock-Gedser route, will pump scrubber water saturated with exhaust residue into a shore-based MarinePaq system from Luxembourg supplier APATEQ. The system, housed in two stacked containers at Gedser port, cleans the water so effectively that it meets the most stringent environmental legislation and can be discharged into the harbour.
The onshore treatment enables Scandlines to save on the costs for hauling the scrub water to the nearest industrial wastewater treatment facility, and means that it can remain flexible without reliance on external treatment providers. The MarinePaq also offers an alternative to often overloaded wastewater treatment facilities.
APATEQ claims that MarinePaq achieves a much higher quality of purification than other scrub water treatment systems, including those offered for on board applications. Heavy metals, oxidisable pollutants, nitrite, sulphites and nitrates are reduced to much lower levels, the company says.