Stricter environmental regulations on ballast water and sulphur emissions are forcing the shipping industry to take action and this year's SMM 2018 will showcase future-proof technologies to help operators meet tighter targets.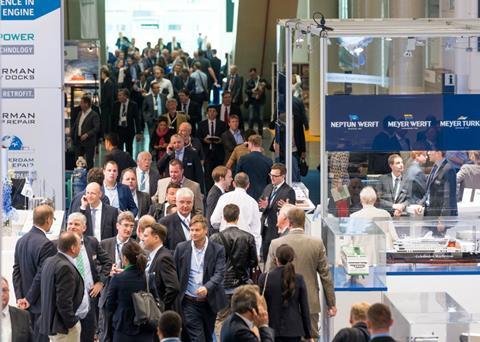 At the concurrent environmental conference Global Maritime Environmental Congress (gmec), experts will discuss challenges and opportunities facing the industry.
"There is no turning back. The lower sulphur limit will have a significant positive impact on the environment and on human health, especially for people living in port cities and coastal regions," said IMO Secretary-General Kitack Lim.
Meeting regulation
Gmec will be held on 5 September in Hamburg as part of the SMM conference programme.
Speakers will include Katharine Palmer, global sustainability manager at Lloyd's Register, who will advise the industry on how to best comply with current regulations and prepare for future ones.
Exhibition hall A5 will be dedicated to a green propulsion theme with a special focus on LNG, where decision-makers will be able to meet up with experts to get advice and study technical solutions hands-on.
With regards to ballast water regulation, understanding which types of BWM system are suitable for a specific ship type and which of these systems meet both the IMO rules and the stricter requirements of the US Coast Guard is challenging.
So, a gmec expert panel including Debra DiCianna of the US consulting firm Choice Ballast Systems, Tim Wilkins, environment director at Intertanko, Stamatis Fradelos, principal engineer, Operational Environmental Performance (OEP) Team at ABS and others, will provide valuable insights.
Cruise segment
This year a cruise and ferry route has been added to the gmec programme.
Under the chairmanship of Andreas Chrysostomou, acting Secretary General of the European chapter of CLIA, a gmec expert panel will focus on the cruise industry's pioneering role in environment protection.
The panel will include Bud Darr, executive vice president, Maritime Policy and Government Affairs at MSC Cruises, Lex Nijsen, vice president and head of Four-Stroke Marine, MAN Diesel & Turbo, Rolf Sandvik, CEO, The Fjords and Jan-Erik Rasanen, head of New Technologies at the Finnish engineering firm Foreship, among others.
More information on the green shipping conference from: http://www.smm-hamburg.com/en/conferences/gmec/