On day three of the conference delegates were invited to Scandlines M/V Copenhagen, a hybrid ferry fitted with a Norsepower 30m rotor sail.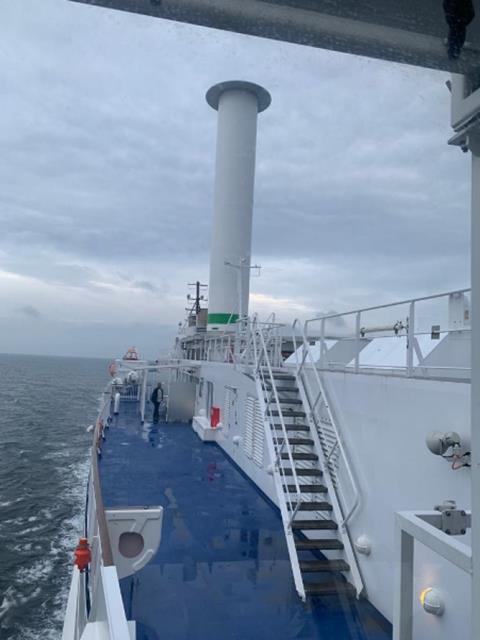 The day kicked off with presentations from Anette Ustrup Svendsen, Head of Corporate Communication, Scandlines. This presentation explored the history and evolution of Scandlines. Followed by a presentation from Jukka Kuuskoski, CSO, Norsepower. In his presentation Jukka explained the physics behind the rotor sail; then moved on the highlight the vessels it has been fitted onto and finished the presentations looking at the market outlook and environmental impacts.
The delegates were then invited to the Bridge, and were given a full brief by the Captain of the journey and the positive impact the installation of the rotorsail have had for Scandlines. Delegates then went outside onto the helipad, for a close up view of the Norsepower Rotor sail producing wind assisted propulsion and a clear view of Rostock when M/V Copenhagen docked into port as the first part of the journey.
On return back to Gedser delegates were given a full guided tour of the engine room(s) and explored how the vessel is powered by MAK engines and port manoeuvred by Azipod thrusters.
The day finished with a presentation from Gavin Allwright, Secretary, International Windship Association (IWSA). Gavin's presentation gave the delegates insights into WASP projects, of which both IWSA and Scandlines are members.
Next years conference has been confirmed to take place from 15-17 November 2021, Le Méridien, Hotel, Hamburg. For more information about next year's conference or access to the download, please contact the Events team on +44 1329 825335 or email conferences@propulsionconference.com.