Wendy Laursen describes how the major classification societies are forging ahead with designs for the future, in particular encouragement of concepts for future ships making use of low-emission technologies and fuels.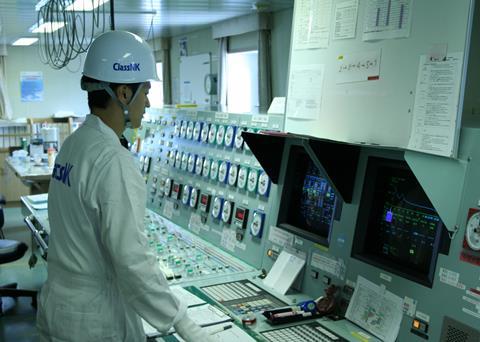 Paving the way for a new generation of ships, RINA is working with leading shipowners and government authorities around the Mediterranean to facilitate development of an LNG bunker chain in the Mediterranean and across the North Atlantic.
"Doubts over LNG bunker availability are holding back a switch from diesel to gas power for the global merchant fleet," says Andrea Cogliolo, head of innovation at Italy's RINA Group. "We have the rules and yards have the designs for gas-fuelled ships. But we won't see the technology spreading until owners can be sure they can bunker their ships, and until the global bunker chain makes LNG ships as flexible as diesel vessels."
RINA is a partner in the EU-funded COSTA project (CO2& Ship Transport emissions Abatement by LNG) which is identifying the obstacles and drawing up appropriate plans. Italian shipowners Grimaldi and Grandi Navi Veloci and the maritime administrations of Italy, Greece, Spain and Portugal are taking part.
There is a chain of LNG terminals across the Mediterranean, explains Mr Cogliolo. "What we have to do is work towards common standards which all these terminals can adopt to build the bunker chain shipping needs."
LNG as fuel is not covered by national or international regulations and only IMO non-binding guidelines are available. The IMO IGF Code is still under development and is unlikely to be in place before 2014. Currently there are many doubts over local rules in ports and local authorities. There may be traffic limitations on LNG-fuelled ships in some ports and possible prohibition of simultaneous commercial operations during refuelling.
As ports move to install LNG bunker facilities, they need to consider the need for LNG tanks with loading arms or a system whereby LNG is to be provided by LNG bunker barges or by LNG tank trucks. "Permits for this infrastructure by national and local authorities are generally based on the production of a safety case and this is a lengthy process," explains Mr Cogliolo. "That is where an international approach co-ordinated by class can help."
The European Commission is doing all it can to facilitate LNG bunkering development, in the Mediterranean and the Baltic, he explains. "The COSTA project will learn from the Baltic and Norwegian experience and also look at the feasibility of Europe's Atlantic islands including the Madeira and the Azores becoming transatlantic LNG bunkering stations." The project is due to be completed by 2014.
NOTATION SUPPORTS EVOLVING NEEDS
Another class initiative supporting a new generation of vessels is DNV's release of a new notation for seismic vessels in July in response to the evolving needs of the seismic market as exploration reaches out into deeper waters. This was developed in consultation with companies such as Western Geco, PGS and Fugro.
The need for maintenance of propulsive power was identified as a key issue. The class notation therefore takes DNV's concept for redundant propulsion one step further to ensure that any failure on board will not lead to loss of more than 50% forward thrust. This is sufficient to maintain a minimum speed of a few knots and will protect any high cost air guns and streamers deployed. The proposed engine redundancy arrangement will also open the possibility for carrying out maintenance on one engine line concurrently with operation of the air guns.
The class notation requires a deck arrangement that facilitates side by side transfer for crew and resupply from a seismic support vessel. It also requires a bridge arrangement that ensures good view to the streamers and any workboats that are close by during normal operation. High pressure systems are also addressed.
DNV is developing new designs for the container market, one of which was Quantum, a 9,000TEU container ship optimised for maximum space utilisation, minimum fuel consumption and minimal need for ballast water. Kawasaki Heavy Industries (KHI) took up the concept and has now gained approval in principle for a new container ship. The vessel will operate efficiently at a wide range of speeds, from less than 10 knots to more than 22 knots, and will have a MAN Diesel & Turbo ME-GI main engine fuelled by LNG stored in KHI-designed space-saving prismatic tanks.
Additionally, DNV is classing the new generation of 10,000TEU container ships contracted by Seaspan from Yangzijiang Shipbuilding Group. The design collaboration between Seaspan, Yangzijiang Shipbuilding, MARIC and DNV has led to a reduction in fuel consumption of 20% and an increase in cargo capacity of 10% compared to similar contemporary ships.
Not all developments have related to a leap to LNG. A new Handysize bulk carrier concept design - the Green Dolphin, created by the Shanghai Merchant Ship Design & Research Institute (SDARI) and development partners DNV and Wärtsilä - uses existing technologies to meet owners' needs for fuel efficiency and operational flexibility while also being ready for future environmental regulations. The concept design can be varied for running on heavy fuel oil using emission treatment systems or to switch to low sulphur fuels or LNG.
The hull design has been a combined effort by SDARI and DNV and provides improved overall performance at different loading conditions, speeds and sea states. The propulsion efficiency is increased through the fitting of a wake equalising duct in front of a large-diameter, slow-rotating propeller. A rudder transition bulb and rudder fins reduce the hub vortex and recover rotational losses.
Another design not specifically LNG-based is Germanischer Lloyd's (GL) BEST Plus Aframax design concept released a year ago and now further optimised to increase the design speed or reduce the required power. The design assumes the use of MGO as fuel when sailing in an ECA. LNG as ship fuel, or the use of scrubbers, are alternatives to the basic design concept.
The BEST Plus hull form was created to yield optimal wake properties but new analysis of the design concept considered the addition of a wake equalising duct (WED), an option that because of its inherent simplicity would enhance both newbuildings and retrofitted vessels. The hydrodynamic analysis was carried out by software developer Friendship Systems, a GL company, and the University of Applied Sciences in Bremen.
Taking the most advanced BEST Plus tanker design the WED was introduced in an effort to homogenise the wake field in the propeller plane and further enhance propulsive efficiency. Latest modelling techniques yielded a design that, at the design draft and speed, required power by decreased by 4.5%, as well as resulting in smoother flows towards the propeller, reducing the likelihood of cavitation inception and vibration. This improvement could also be used to increase the design speed of the vessel by 0.2 knots, taking it to 15.8 knots.
While the main particulars of the BEST Plus are comparable to similar sized Aframax tankers, it features best in class cargo capacity and speed, says GL. This results in it easily besting the incoming EEDI requirements, even through the planned first tightening of the new energy efficiency standard, which should see the design remaining highly competitive throughout its lifetime even when matched against newer vessels.
BV CUTS PAPERWORK
Bureau Veritas has introduced a new IT-based certification and ship status system that aims to reduce the workload of shipowners by simplifying access to ship information and status.
"We are finally able to tackle the last bastion of outdated paperwork," explains Claude Maillot, ships-in-service director at Bureau Veritas. "Over the years the ship's classification certificate has grown from one simple page into a document with many pages and annexes which are built up of both printed and handwritten entries. As a key document for the ship's operation it has become unwieldy, error-prone, open to confusion and difficult to maintain." Now the ship's Certificate of Classification will be a simple one-page document with everything else available online and updated electronically where it can be accessed by owners and by charterers and port authorities if given access by the owner.
When an owner chooses to print a Ship Status, it can be tailored to be as detailed or as simple as required, either containing all certificates, audits, surveys, recommendations, no-conformities or simply a to-do list. Owners may also subscribe to regular periodical updates by email. "This system avoids confusion as there are no more hand-written updates or recommendations on certificates," says Maillot. "That has in the past led to confusion with charterers and authorities. At the same time we have enhanced the way owners and operators can see the ship status, which will help with planning maintenance and surveys. There is a graphical presentation of all surveys, audits, recommendations, non-conformities and planned maintenance and continuous survey items due in the next 12 months."
The new system also allows the ship's staff to update the central record via VeriSTAR Info when planned maintenance items have to be done by a specific date. The item is then verified by a BV surveyor on the next ship visit.
"We are also helping owners by giving each ship a Ship Documents folder for presentation to third parties, which we will supplement with an electronic version on a USB key," says Maillot. "It sounds simple but masters will love it because it makes organisation of all the paperwork needed for PSC and charterers' inspections much simpler to maintain and present."
RUSSIA TIGHTENS AGE POSITION
Russian Maritime Register of Shipping (RS) has announced that in the majority of cases applications for class assignment of vessels aged above 20 years will be rejected. Vessels aged 15 years or over are considered high risk and will be subject to tight regulations such as extended scope of surveys. A shipowner's plans to transfer the vessel under the flag of the Russian Federation cannot affect the decision of the class society's technical committee.
ABS UNVEILS SEEMP SOFTWARE
Ballast water and oily water management are already issues for owners and further ahead is the prospect that industry will monitor its carbon emissions as the International Maritime Organization's Ship Energy Efficiency Management (SEEMP) becomes mandatory in 2013. Compliance on such a scale requires the capture and analysis of a wide range of operational, energy consumption and performance data and shipowners are increasingly turning to software applications to provide tools to improve operational efficiencies as well as to address compliance requirements.
In response, ABS Nautical Systems has developed an Energy & Environmental module within its software suite, NS5 Enterprise. The Energy & Environmental Manager provides a platform for efficient and environmentally-sound voyage management. The software provides easy-to-use data entry forms that can be populated manually or automatically, generating the necessary information to facilitate company, classification and regulatory reporting. Dashboards with charts and graphs provide crew and shore-side personnel access to the same information for trending and analysis, providing the data needed to help improve vessel and fleet performance.
The Energy & Environmental Managers offers an automated feature that facilitates the collection and reporting of the data necessary to demonstrate compliance with the SEEMP. Additional features provide the ability to track and record other key voyage related events including ballast water management, fuel and lube oil consumption, fuel oil switching and cargo information.
President, ABS Nautical Systems, Karen Hughey says Nautical Systems developed the software to benefit both the crew and the owner/manager by integrating some of the data already being generated by environmental monitoring.
"When we started this project we asked ourselves what can we do to help operators to be compliant and how can our fleet management software provide the data needed to help reduce fuel consumption and drive efficiencies," Ms Hughey says. "When we looked at what was already happening on board some ships, we discovered many sophisticated data-gathering systems. What we are able to do with the Energy & Environmental Manager software is to combine much of that data already in place."
By bringing together data from processes and systems already used on board into the NS5 Enterprise fleet management system, an operator need only work with a single solution to manage the capture, analysis and reporting of critical environmental data.
"The principle we employed was to collect information on events over the course of the voyage, on the bridge and in the engine room, then record and store it securely. That data can then be presented in an integrated way on the ship and in the office," she says.
A key focus was to design a system that is simple but also scalable. With the pressure of work increasing for crews, it was important the module not add significantly to the workload, and also provide the ability for shoreside tracking and analysis of vessel activity.
"For the crew it needs to be simple to use with minimal training. For the office, the module helps them demonstrate SEEMP compliance and to look in detail at their energy use and performance data. The module can be deployed stand-alone but it would also enable an owner to generate scenarios and benchmark across an entire fleet."
The Energy & Environmental Manager is now offered as part of the ABS Newbuild Program, which provides ship inspection and maintenance management software to all newbuilding vessels classed to ABS, providing owners with a complete package to help monitor the condition and improve the energy efficiency of their vessels.
WORKING OVER WATER
The need for Lloyd's Register (LR) surveyors to transfer across water to the ships and structures that they are surveying prompted the organisation's safety team to search the industry for guidelines specifically addressing the risks of working over water. Finding none, they have developed their own guidance and informative film. The results are now being implemented by LR and made available to others in the industry.
The guidance addresses working around vessels, rafting in tanks, the use of pilot boats and ladders and sea trials, amongst other situations. Human factors such as lapses of attention and mistaken perceptions are addressed and the STOP checklist put forward: Stop. Think. Observe. Plan.
"How many times do you put others before yourself?" asks the LR safety team. "You may face a demanding client, time pressures and the fact that everyone is working hard. Putting other factors like this first instead of your own safety can lead to incidents. Don't work in an unsafe location because it might help someone else or get the job done quicker. Take the safer route."