Havila Capella, the latest in a series of battery-hybrid LNG-fuelled cruise ferry newbuildings ordered by Havila Kystruten, will enter service operating along the Norwegian coast between Bergen and Kirkenes. The vessel was delivered on 9 November from Turkey's Tersan Shipyard.
The vessel is noteworthy for featuring Corvus-supplied ESS systems and shore power connections, which allow them to operate for up to four hours with zero-emissions. The hybrid power system offers operational advantages, reducing fuel consumption, emissions, noise and vibrations during transit and manoeuvring.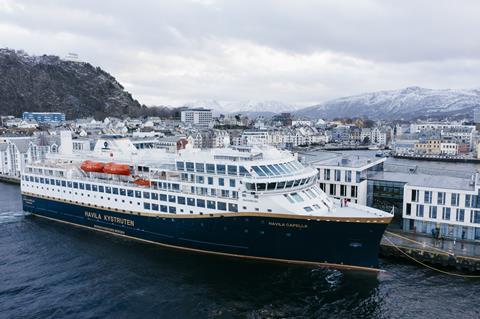 The vessels also feature a host of integrated, energy-efficient solutions supplied by Kongsberg Maritime. As previously reported by The Motorship, Kongsberg will deliver to Havila Kystruten a total of 16 powerful Bergen gas engines, which apply variable turbo geometry to provide an optimal response at all speeds.
"All told, greenhouse gas emissions from our Bergen gas engines are around 20% lower than those from similarly-rated diesel engines," says Ottar Ristesund, SVP sales, Kongsberg Maritime, "even when we take the methane slip, the unburned fuel, into consideration. They are far cleaner to operate, and users report a reduction of as much as 10% in maintenance costs compared to diesel engines."
The Havila Capella's main propulsion, meanwhile, stems from a KM Azipull-PM unit with an L-drive configuration. The AZP-PM also proffers the advantage of a compact installation footprint as its motor is housed within the mounting flange diameter.
The vessels also feature Kongsberg shaft power generators, as well as tunnel thrusters combines space-saving convenience with low-noise, low-vibration and high-performance operation. The tunnel thrusters' rapid response times to full power increase operability and manoeuvrability.