The Port of Vancouver is proposing to offer ships with low underwater noise class notations or noise reducing technologies discounts on harbour dues.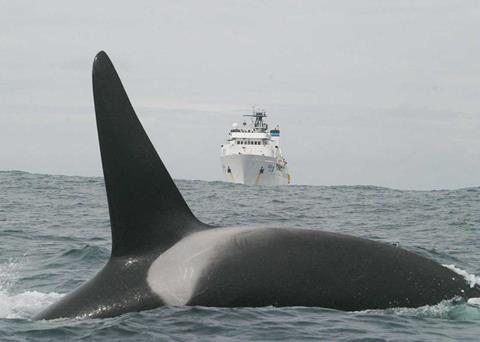 The company - which has been conducting extensive hydrophonic research to measure underwater noise levels and their impact on the whale population of Vancouver's coastal waters – is hoping to offer a 47% discount on charges for ships with low noise notations from DNV GL, the American Bureau of Shipping or RINA.
Ships equipped with wake reduction or cavitation prevention devices such as Mewis ducts or boss cap fins will be offered a smaller 23% discount if the proposal, currently subject to a public consultation, is approved.
Orla Robinson, programme manager of the Enhancing Cetatcean Habitat Observation (ECHO) project at Port of Vancouver, said: "Whales come here to feed and if they can't hear their echo-location come back [due to vessel noise] they may miss that opportunity to feed."
Robinson reported that local ferry operator BC Ferries, which operates 34 vessels on 24 routes in British Columbia, has been assisting the port with its underwater noise research. The companies have made more than 590 accurate recordings from 1,000 transits made by four of the vessels. The data will inform the ferry company's noise reduction initiatives.
The port is also keen to explore the impact of hull fouling on waterborne noise. It plans to measure this at a hydrophonic installation in the Strait of Georgia, near Vancouver's Deltaport bulk terminal. The project, which will also gather data towards several other research aims, is being carried out in partnership with Transport Canada, the Ocean Networks Center and JASCO Applied Sciences.
A further research project involves the testing of an underwater hull cleaning, Whaleshark, from local supplier All-Sea Underwater Solutions. The project aims to assess whether the process causes any harmful substances to be emitted as well as analysing differences in noise levels and fuel consumption before and after cleaning.
COMMENT: The Vancouver project is notable for being at the forefront of port projects to reduce underwater noise for the benefit of marine life. It is also an example of how the issue of noise – be it in engine rooms or ship cabins, airborne within ports or waterborne – is becoming an increasingly significant issue.
For cruise ships, where passenger comfort has long been a priority, achieving the underwater noise class notations is eminently achievable – particularly where diesel-electric or podded propulsion is employed. Reaching the required standards would be costlier for vessels powered by two-stroke engines. The combination of changes to the propeller, aft end and potentially main engines and generators would likely make it unfeasible for retrofitting and expensive for newbuilds.
If owners of two-stroke vessels are to consider steps to reduce underwater noise without mandatory regulation, port incentives alone may not tip the scales. Robinson acknowledges the fact and suggests that research into the co-benefits of noise reduction strategies – for example how wake reduction or anti-cavitation technologies can both reduce noise and cut fuel costs – could provide the answer. Combined with port incentives, should they become more widely deployed, such co-benefits could unlock the investment needed from ship owners to make ports and coastal waters a friendlier place for whales.