Hyundai Mipo Dockyard (HMD) held a keel laying ceremony on 24 December for a new hybrid Ro-Pax ordered for the Isle of Man Steam Packet Company (IOMSP).
The ceremony, which was attended by representatives from the shipyard and project managers and naval architect representatives, saw the first of 36 blocks lowered into the yard's No. 4 building dock. The first 215 tonne block was followed by two further blocks after the traditional coin ceremony was concluded, permitting welding and assembly work between the three blocks to begin. The IOMSP previously noted that preparatory construction of the vessel's 36 blocks had been almost completed in December 2021, before the keel laying ceremony.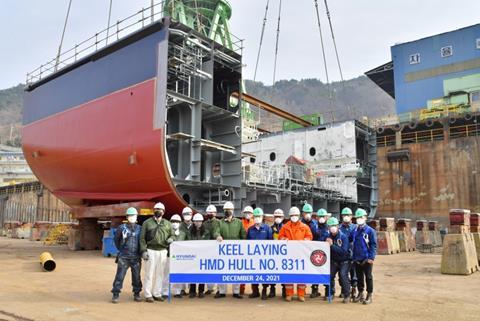 The 132 metre-long vessel is due to enter service in 2023 on the Heysham to Douglas, Isle of Man route. The Manxman will have a capacity for 949 passengers, and will offer greater freight capacity than the existing Ben-my-Chree ro-pax, which it will replace.
The vessel will be propelled by Wärtsilä 31 engines, and includes a Wärtsilä battery-hybrid energy management and propulsion system.