A naming ceremony for what is claimed to be the world's first full-electric bunker vessel has been held at Koa Sangyo shipyard in Marugame City, Kagawa, Japan.
The ceremony for the 1,280m3 full-electric bunker vessel Asahi was held on 22 December at Koa Sangyo. The 62-metre long, 499gt vessel is scheduled to enter service in Tokyo Bay as a marine fuel supply vessel after completion and delivery in late March 2022. A second pure-electric vessel is scheduled for completion in March 2023 at Imura Shipbuilding.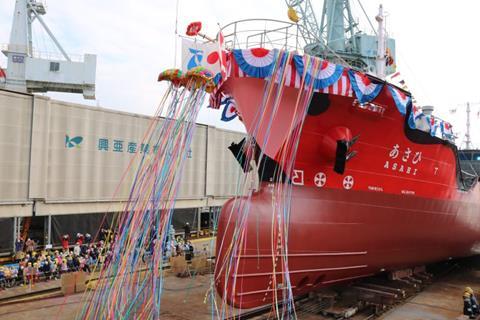 The vessel's DC electric power and drive system is powered by an electrical storage system consisting of 3,480kWh of Li-Ion batteries. Propulsion will be achieved using two azimuth thrusters of 300kW apiece in the stern, each connected to a large-capacity permanent magnet (PM) motor. The bunker vessel also features two 68kW bow tunnel thrusters.
The vessel's operational speed of 10 knots and sailing range while operating in Tokyo Bay will be comparable with vessels currently in service. The Motorship previously reported on the pure-electric design when Asahi Tanker and ship broker Exeno-Yamamizu announced the concept design in January 2019.
The e5 consortium has brought together a number of Japanese companies, including Idemitsu Kosan Co., Ltd; Mitsui O.S.K. Lines, Ltd; Tokio Marine & Nichido Fire Insurance Co., Ltd; Tokyo Electric Power Company (TEPCO); and Mitsubishi Corporation. Kawaski Heavy Industries has acted as the system integrator for the project.