Luxembourg-based ro-ro freight specialist CLdN is set to give a further boost to its north-west European service framework with a newbuild which marries the company's trademark versatile carrying capacity with LNG-fuelled, two-stroke propulsion.
The 50,455gt Faustine is a derivative of the diesel-powered design employed in the four preceding, 5,400 lane-metre ro-ros delivered by Hyundai Mipo Dockyard to CLdN since January 2019. The latest iteration is distinguished by a more environmentally-friendly power solution, entailing an LNG dual-fuel, low-speed installation.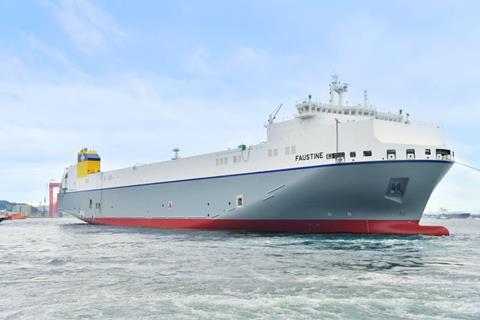 Following handover by the South Korean builder, Faustine proceeded to the Bohai Bay area of China to take on a cargo of cars for discharge at Dakar, Senegal. She then sailed for Antwerp, with an ETA of 12 December. The voyage positioned the ship close to the company's two continental hub ports, Zeebrugge and Rotterdam, serving routes to Britain, Ireland, Scandinavia and the Iberian peninsula.
Due to be followed by a sister in 2022, the new vessel is a refinement of the 216m Laureline class, four of which were completed in series by HMD at Ulsan over the course of 2019. A multi-deck layout provides for a broad payload mix including trucks, unaccompanied trailer-borne freight, double-stacked containers on cassettes, factory-new cars, vans and other vehicles and equipment, all handled across the 20m-wide, 180t-capacity stern ramp.
The ship affords a minimum freight capacity of around 5,100 lane-metres, increasing to a maximum ro-ro intake corresponding to 5,400 lane-metres if space on the fixed internal ramps is fully utilised.
The combination of high-headroom trailer and container decks with special arrangements for automotive industry clients is a signature feature of CLdN's sustained fleet investment. The requisite, 320m3 LNG fuel storage and gas treatment system in the Faustine has been accommodated underdeck without any apparent detriment to revenue-earning potential.
The configuration and equipment layout has been conceived so as to enhance stability, and the foreship section incorporates a Flume tank system to exert a roll damping effect.
While each of the Laureline quartet was delivered with an MAN S50ME-C two-stroke diesel engine, but in an LNG-ready installation, facilitating future conversion to dual-fuel powering, Faustine and her forthcoming sister were specified from the outset with the high-pressure gas-injected (GI) variant of the low-speed engine design, conferring an LNG dual-fuel capability. The chosen seven-cylinder S50ME-C-GI model drives a controllable pitch propeller, enabling a speed of around 17.5 knots. An interposing shaft generator that can be run in power take-in (PTI) mode, acting as an electrical motor when energised by the diesel gensets, confers a take-home propulsion back-up.
Given the need to sustain intensive, time-critical schedules involving tidal and wind-prone berths, and to avoid having to call on tugs in all but the worst weather conditions, manoeuvrability is critical. To that end, Faustine incorporates four Kawasaki tunnel thrusters, two at the bow and two at the stern. The ship's substantial electrical load is based on four gensets driven by HiMSEN four-stroke engines designed and produced by Hyundai Heavy Industries, and comprising three 8H25/33 models, and a 6H21/32 singleton.
Prior to the Laureline class, HMD constructed the 235m ro-ros Celine and Delphine, delivered to CLdN in 2017 and 2018. By virtue of a 7,970 lane-metre cargo intake, Celine set a capacity record in the European ro-ro capacity stakes, and also brought two-stroke, single-screw powering in the short-sea domain to a new level, via an MAN 9L60ME-C engine.
Continuity of the association with HMD could be in prospect beyond the second of the Faustine version, since the shipowner holds options on third and fourth such newbuilds.
PRINCIPAL PARTICULARS - Faustine
| Length overall | 216.5m |
| --- | --- |
| Length bp | 204.0m |
| Breadth | 32.3m |
| Depth, to main deck | 12.2m |
| Draught, scantling | 8.2m |
| Gross tonnage | 50,455t |
| Deadweight | 20,194t |
| Ro-ro capacity | 5,400 lane-m |
| Main engine | MAN 7S50ME-C-GI |
| Speed | 17.6kts |
| Class | DNV |
| Flag | Malta |