Testament to the Japanese propensity for continuous improvement, a further iteration of the Dunkirkmax-type bulk carrier has made its trading debut in the Pacific.
The latest design encapsulated by the 181,994dwt Awajisan Maru gives fresh expression to Namura Shipbuilding's proficiency in the Dunkirkmax segment, marking the start of a delivery programme for a series of orders taking production at the Imari yard on Kyushu into 2023.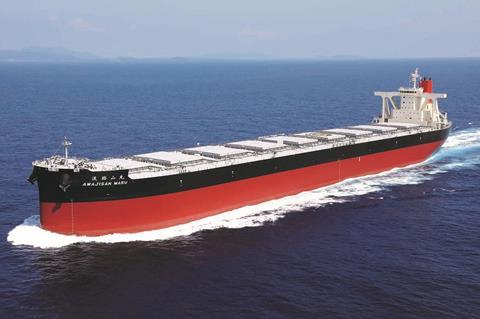 While suitable for much wider global deployment, the parameters of the class are determined by certain constraints for reaching the inner port at Dunkirk, in northern France. Whereas the Western Port section has direct, open access to the shipping lanes of the English Channel, access to Dunkirk's Eastern Port and its mineral quays is by way of the Charles de Gaulle lock.
Although a Chinese-built bulker of 46m beam brought a cargo at necessarily reduced draught into the Eastern Port to the ArcelorMittal steelmaking complex a few years ago, the lock generally imposes a 45m breadth limit. This is a key determinant for the Dunkirkmax designation, and a fundamental consideration in raw material supply logistics to ArcelorMittal's largest European steel plant, where three blast furnaces have a combined annual output capacity of 7m tonnes.
The optimisation process reflected in the Awajisan Maru included the incorporation of proprietary energy saving appendages, the Namura Flow Control Fin and Rudder Fin, and adoption of superlongstroke G-type, MAN low-speed main engine and high-efficiency propeller.
The six-cylinder G70ME-C9.5 installation was manufactured at Mitsui's Tamano works to the specified rating of 14,370kW at a crankshaft speed of just 67.9rpm, well below the design's nominal MCR so as to achieve further economies. Exhaust gas recirculation (EGR) technology ensures IMO Tier III NOx compatibility. Four gensets give a combined electrical output of 3,000kVA.
Namura's naval architects have married operating efficiencies with a progression in loading capacity, as Awajisan Maru is attributed with a capacity for 199,521m3 of bulk cargo in the nine-hold configuration. This represents an advance of several thousand cubic metres relative both to previous ships in the same category and to Dunkirkmax tonnage turned out this year by other yards.
Besides a 45m moulded breadth, the vessel's main dimensions include a length overall of 291.9m, length between perpendiculars of 287.6m, depth of 24.6m and summer draught of 18.23m. She is managed by Tsukumi-based Hokoku Marine, and retains the Maru national naming suffix notwithstanding registration under the Panamanian flag.