Fresh endorsement of the railship mode is represented by the delivery of a 200m newbuild for Russian Baltic service.
The Marshal Rokossovsky is the first of two ARC4-class sisters ordered by Rosmorport and tailored to the route linking Ust-Luga (west of St Petersburg) and Baltiysk, in the Russian enclave of Kaliningrad, bypassing Estonia, Latvia and Lithuania.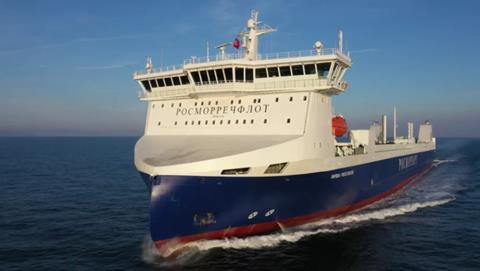 Constructed by Kuzey Star Shipyard of Turkey, under a cooperation agreement with Russia's Nevskiy Shipyard, the ro-ro freight ferry is laid out to carry rail wagons of Russian gauge on the main deck and trailers on the upper deck. Developed by the Marine Engineering Bureau of Odessa, the design also constitutes a milestone in the sector due to the adoption of LNG dual-fuel propulsion.
Marshal Rokossovsky and second-of-class General Chernyakhovsky, currently fitting out at Kuzey Star's Tuzla Bay premises, will supersede the Baltiysk (1984-built) and Ambal (1990), former German railships, on the strategically important connection between Kaliningrad and mainland Russia.
The primary power plant comprises two 12-cylinder medium-speed engines of the Wartsila 34DF-series, each rated at some 6,000kW, with geared drive to a pair of controllable pitch propellers. The installation provides for a speed up to 16.5 knots in ice-free conditions, and allows wholesale running on LNG with the facility to switch to low-sulphur diesel fuel. LNG fuel containment is at tank top level by way of two 300m3 storage tanks.
The new vessels have been strengthened and equipped to ensure year-round service continuity without having to call on icebreaker assistance. Manoeuvring qualities have been enhanced through the adoption of three 1,000kW tunnel thrusters, two at the bow and one at the stern. Two 2,400kW shaft generators are complemented by two diesel-generator aggregates, each of 1,222kW.
Capacity for railcars, built to the standard Russian track gauge of 1.52m, equates to 80 wagons of 12m, or 54 of the 17.7m type, or 36 of the 24.6m type, with various permutations typically making up loads. The main deck can alternatively accommodate 58 road trains of 16.5m, comprising trucks and trailers, or a larger number of unaccompanied trailers, with the upper deck providing for 15 trailers of 13.5m. The ship's electrical system enables up to 30 refrigerated containers to be included in the cargo manifest.
The newbuild project arises from the approval by the government of the Russian Federation in 2017 to ensure direct, domestic transport accessibility to and from the Kaliningrad region, skirting the independent Baltic states.
The ferry service not only acts as a seabridge in the Russian rail network, but also provides a domestic conduit for supplies of heavy construction machinery and equipment, steel structural components and building materials, as well as the transportation of vehicles. Rosmorport has entrusted the commercial operation to Oboronlogistika.
TECHNICAL PARTICULARS - Marshal Rokossovsky
| | |
| --- | --- |
| Length overall | 199.9m |
| Length, summer waterline | 196.6m |
| Breadth | 27.0m |
| Depth, to upper deck | 14.7m |
| Depth, to main deck | 8.6m |
| Draught, summer | 6.0m |
| Corresp. deadweight | 11,062t |
| Gross tonnage | 20,660t |
| Rail laneage (main deck) | 970m |
| Road freight (upper deck) | 15 x 13.5m trailers |
| Main engines | 2 x 6,000kW |
| Speed, maximum | 16.5kts |
| Class | RS |
| Class notations | KM*, Ro-ro ship, ARC4, AUT1-ICS, OMBO, ECO, GFS |
| Passengers | 12 |
| Crew | 24 |