Swedish owner Donsotank is introducing a new generation of hybrid-powered tanker to the European distributive traffic.
The 25,300dwt Prospero, as the first of two IMO Type 2 sisters ordered in China from Wuhu Shipyard, represents an investment in more environmentally-compatible and energy-efficient transportation of oil products and petrochemicals.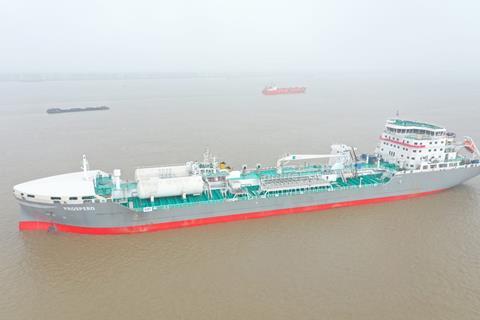 The tanker's powering arrangements meld the latest type of dual-fuel, medium-speed main machinery with a permanent-magnet shaft generator, PTI capability, and plug-in battery pack.
Commercial management has been entrusted to the Gothenburg company Navix Maritime Chartering, putting a versatile trading asset at its disposal, with 14 coated tanks available for low-flashpoint chemical and petroleum product cargoes in up to seven segregations.
Overall cargo carrying capacity amounts to some 28,000m3, and Svanehoj deepwell pumps in each tank provide for a maximum outturn rate of 2,600m3 per hour, while the loading cycle can be made at 1,800m3 per hour.
The 167m design developed by the Swedish technical consultancy FKAB is based on a proven, low-resistance F-Bow hull form, optimised for efficient sailing in harsh weather conditions and strengthened to 1A ice class standard.
Prospero adds to Wartsila's growing reference list for its 31-series medium-speed engine series, the selected unit being a 10-cylinder model of the LNG-capable, dual-fuel variant. The nominal maximum continuous output of the vee-type machinery is 6,000kW at 750rpm, and drive is to a controllable pitch propeller through a reduction gearbox. The LNG feed is from two storage tanks mounted forward on the weatherdeck, just abaft the covered fo'c'sle.
Two 1,480kW diesel gensets, based on Wartsila 8L20 engines, are equipped with the GESAB Catamiser, a combined unit for waste heat recovery and NOx reduction of exhaust gases to the IMO Tier III limit. The auxiliaries are complemented by a 1,500kW shaft generator and a battery pack which performs a peak-shaving role and black-out prevention. The vessel has been laid out for an energy storage system of up to 1,000kWh capacity.
Prospero adopts WE Tech's variable-frequency drive technology and permanent-magnet shaft generator-cum-electric motor PTO/PTI setup. The solution allows nominal voltage and frequency output to be maintained from the shaft generator, feeding the ship's electrical net, over the entire main engine operating range and at optimal duty points for all vessel speeds. The system reduces or obviates the need for diesel gensets to be run while under way.
The shore power connection can receive energy at 6.6kV, ensuring the requisite capacity for cargo discharge operations and battery charging. Cleaner electrical energy from the landside grid can thereby supplant shipboard generator usage. Furthermore, as WE Tech's WE Drive conditions any available voltage and frequency, the tanker's electrical system is unaffected by any differences between various national power grids when cold-ironing.
The PTI function, whereby the shaft generator is energised by the auxiliary gensets to serve as a motor acting on the propulsion shaft, confers an auxiliary propulsion capability. This enables main engine power to be supplemented when encountering difficult ice conditions in the Baltic, and ensures safe return to port in the event of main machinery failure.
Demand-adjusted cooling water circuits, using the hull-integrated Hydroniq Rack seawater cooling system, reduce energy consumption.
Construction of the Prospero has signified Wuhu Shipyard's entry into the high-end tanker segment and the Nordic market. She is also said to be the first dual-fuel vessel and ice-reinforced ship from the industry in Anhui province. Second-of-class Pacifico was launched from contractor's yard into the Yangtze during June, and is due to be delivered in early 2022.
MAIN PARTICULARS - Prospero
| | |
| --- | --- |
| Length overall | 167.34m |
| Length bp | 160.63m |
| Breadth | 26.50m |
| Depth | 13.90m |
| Draught, design | 9.20m |
| Draught, scantling | 10.00m |
| Deadweight, maximum | 25,300t |
| Gross tonnage | 18,636t |
| Cargo capacity | 28,000m3 |
| Main engine power(dual-fuel) | 6,000kW |
| Service speed, economical | 13.5kts |
| Auxiliaries | 2 x 1,480kW |
| Shaft generator(PTO) | 1,500kW |
| Bow thruster | 1,200kW |
| Class | DNV |
| Flag | Sweden |