Vard Engineering AS, a unit of Norway-based Vard, has developed a new liquefied natural gas (LNG) bunker vessel design to meet growing demand for ship-to-ship bunkering, as well as local distribution.
The vessel is designed to be able to provide bunkering operations in ports and offshore, but will also be able to satisfy increasing demand for small scale LNG distribution to coastal communities.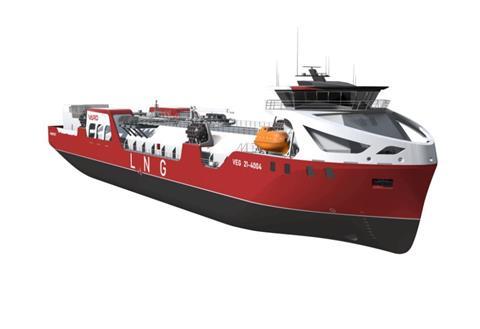 The design features a modern cargo handling system and will be able to complete fuel transfers in accordance with the highest industry requirements. Vard already has extensive experience of designing similar-sized LNG bunker vessels, having received an approval in principle from classification society DNV for its 6,500-cbm design in 2016. The new design will have greater flexibility in configuration, with the ability to carry between 5,000 and 7,500 cbm of LNG, and include vapour conditioning systems upon demand.
The new design is expedcted to offer a significant reduction in fuel efficiency and environmental emissions, as it is based on Vard's zero-emission design for coastal transportation operations in Norway.
A modified version of the design adapted for inland water operations is also available. The freshwater design will feature a lowered bridge and a further reduction in draught.